ReiseBank
Berlin Travel Guide

/

June 02, 2018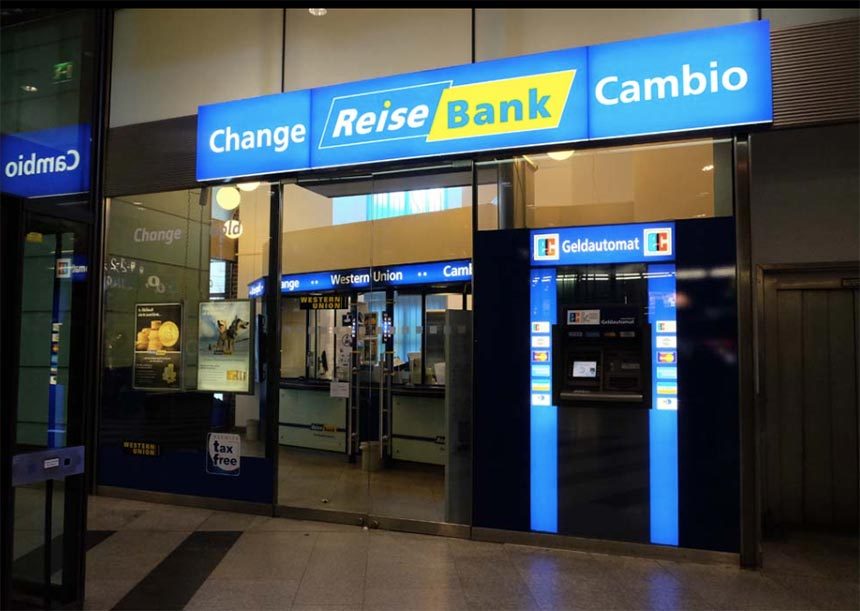 Image credit: ReiseBank AG
Originally under Deutsche Verkehrs-Kreditbank (DVKB) who has managed their bureau de change since 1926, ReiseBank has a long history in providing currency exchange service for generations of visitors.
Their 8 branches in Berlin, including one at Berlin Schönefeld Airport, are a trustworthy address to buy Euros in the capital city of Germany.
Check their daily exchange rates here.
BEST RATES FOR: GBP, CAD, AUD
RECOMMENDED REISEBANK'S BRANCHES
1) ReiseBank @ Berlin Friedrichstraße Station
This branch can be found inside Berlin Friedrichstraße Station terminal.
Address: Friedrichstraße 141-142, 10117 Berlin, Germany
Phone: +49 30 20455096
Opening hours: Daily 08:00 – 20:00
2) Reisebank @ Einkaufsbahnhof Ostbahnhof
This branch is located at the ground floor of Einkaufsbahnhof Ostbahnhof mall.
Address: Shop No. 043, Einkaufsbahnhof Ostbahnhof, Am Ostbahnhof 5, 10243 Berlin, Germany
Phone: +49 30 2964393
Opening hours: Mon to Fri 08:00 – 21:00, Sat & Sun 08:00 – 20:00
3) ReiseBank @ Berlin Central Station
This branch sits inside Berlin Central Station terminal.
Address: Europaplatz 1, Berlin Hauptbahnhof, 10557 Berlin, Germany
Phone: +49 30 20453761
Opening hours: Daily 08:00 – 21:00
4) ReiseBank @ Müllerstraße
This branch is just a 3-minute walk from Leopoldplatz.
Address: Müllerstraße 30, 13353 Berlin, Germany
Phone: +49 30 43722742
Opening hours: Mon to Fri 09:00 – 18:00, Sat 09:00 – 14:30
5) ReiseBank @ Zoological Garden Station
This branch is located beside McDonalds at the street level of the Zoological Garden Station.
Address: Hardenbergplatz 1, Bahnhof Berlin Zoologischer Garten, 10623 Berlin, Germany
Phone: +49 30 8817117
Opening hours: Daily 08:00 – 21:00