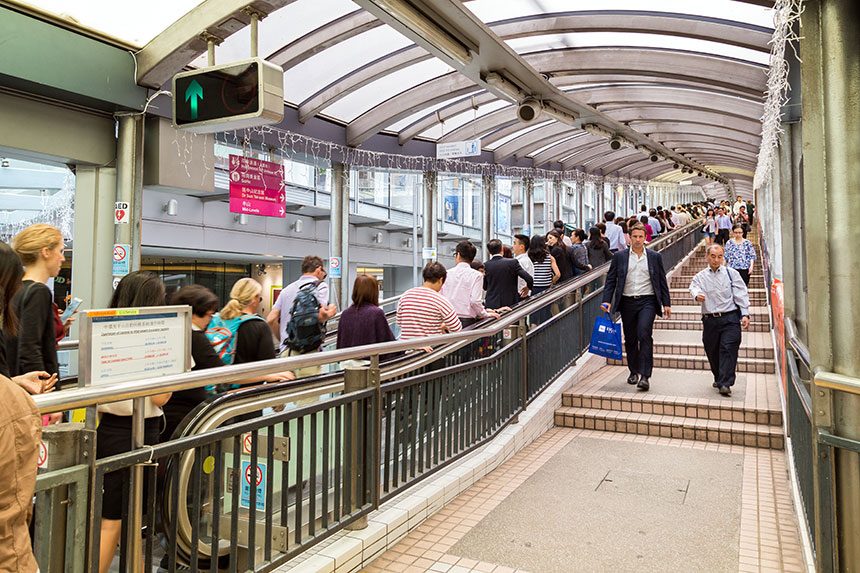 (Image: tuomaslehtinen)
Central–Mid-Levels Escalator provides a free and fun way to travel from Central Hong Kong to Mid-Levels, which is an affluent residential area in the city.
This escalator system, which serves over 85,000 people every day, is the longest outdoor covered escalator system in the world. It has also been featured in CNN's list of the Coolest Commutes in the World in 2015.
The whole system is 800 meters long, consisting of 20 escalators and 3 inclined travelators, passing many crowded areas including Central Market, Hollywood Road and Shelley Street. It takes you about 20 minutes to complete the full trip.
The escalators and travelators operate only one-way at a time, they run downhill from 06:00 – 10:00 then uphill 10:00 – 00:00, every day.
You can get off at Soho (entertainment zone) and enjoy Hong Kong's famous delicacies. From there, you can easily walk to Lan Kwai Fong, which has an abundance of night clubs and bars.
The starting point of escalator system is at 100 Queens Road Central at its junction with Cochrane Street, which is 6 minutes walking distance from the Central MTR Station (Exit D2). You can also reach there by tram – get off at Hang Seng Bank HQ station and walk for 2 minutes.