Rental Kimono Okamoto Kiyomizuzaka
Kyoto Travel Guide

/

March 18, 2017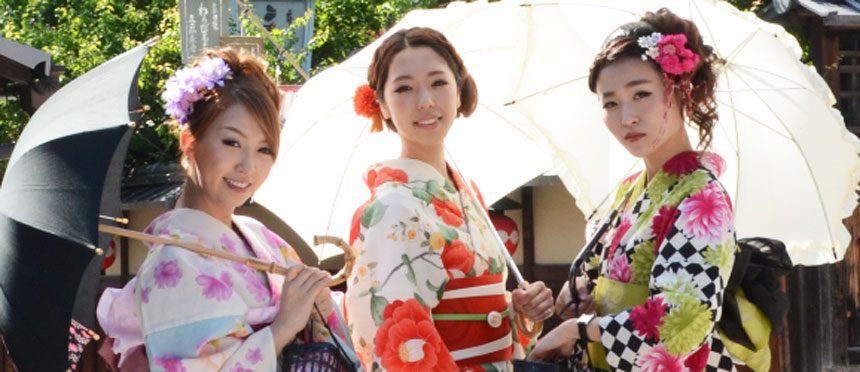 Image credit: Okamoto Kiyomizuzaka
Discover this dress-up haven, after you visit the Kiyomizu Temple just around the corner! Okamoto Kiyomizuzaka was established 180 years ago as a textile store, and has been offering gorgeous kimonos ever since.
Highlights
Elaborate experience at a small price tag: Enjoy dressing-up in a wide range of authentic textiles for just 3,000 yen. Hair-styling is also recommended for the ultimate final look. For only 500 yen, you cannot miss it!
Summery Yukatas and vibrant color choices: Be prepared to choose a color scheme for your traditional outfit. If you cannot decide, the staff will happily advise you on great color combinations. Okamoto also offer a generous amount of cotton summer yukatas for a bright and radiant dress-up experience. During the summer months, you can buy your very own yukata!
Kimono photo service at low prices: After your fitting, model your outfit next to the beautiful stained glass windows on the 2nd floor of the store. For 1,500 yen, you can print and frame your favorite shot.
Packages: Okamoto offer packages starting from 3,000 yen for women and 5,000 for
men. Kids kimonos are also available.
Top Tips
– Make sure to return your kimono by 18:30! If you want to return it the next day, you are required to pay a 10,000 yen deposit, as well as leave a form of I.D.
– Book your appointment well in advance. This is a popular rental and slots fill up really quickly!
Opening hours: 09:00 – 20:00
Location: 2-237-1-1 Kiyomizu, Higashiyama Ward, 605-0862 Kyoto
How to get there: Take bus #100 to Kiyomizu Michi station, and take a taxi/walk the remainder of the way.
5 Best Kimono Rental Shops in Kyoto with Beautiful Styles