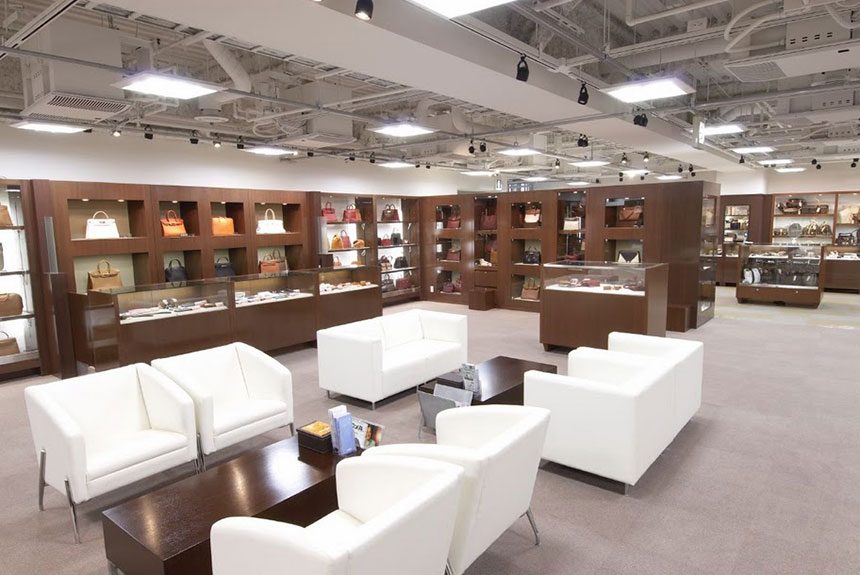 (Image: Komehyo)
Tokyo has marked its spot on the map as one of the top destinations for luxury shopping. The city is composed of several shopping districts, each with a charm of its own – kawaii, hip and trendy, traditional, break-the-bank luxury, and, one of the best kinds, designer brands for less.
Here are the 5 best places to shop for new and pre-owned luxury branded goods in Tokyo.
---
1. Komehyo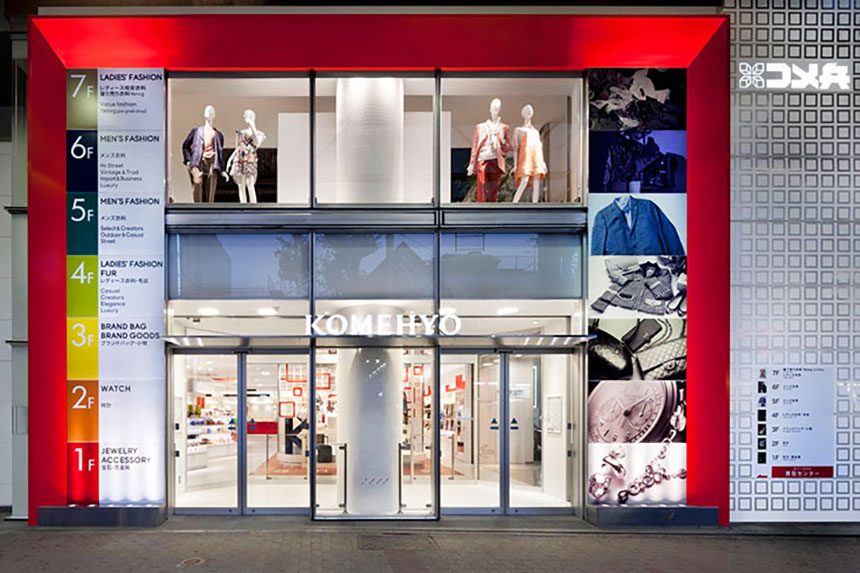 (Image: Komehyo)
Komehyo is a popular shopping chain that sells new and pre-owned luxury brands at about 50% off. This store, with branches in Shinjuku, Ginza, Aoyama and purchasing centers in Shibuya, Kichijoji, and Harajuku, operates on a "relay-use" principle which states that a certain good is able to fully satisfy its mission only when it is relayed from person to person.
Komehyo scouts its merchandise from pre-owned luxury dealers and from their own customers who wish to pass on their designer goods for other shoppers to enjoy. It sells a wide assortment of high-end products such as jewelry and watches, precious metal, bags, cameras, and even real estate leases. Tourists will be pleased to know that Komehyo offers duty-free shopping to shoppers that are able to meet the following requirements: must be a valid passport holder, must make their purchase on the day of their application, must bring home goods, and must meet a minimum of 10,001 yen purchase.
What are on offer: Jewelry, watches, precious metal, bags, cameras, musical instruments, real estate lease, etc.
Brands on offer: Rolex, Omega, Franck Muller, Hublot, etc.
CONTACT
Shinjuku store
3-5-6, Shinjuku, Shinjuku-ku, Tokyo 160-0022
(Shinjuku Sanchome Station, Exit E3)
Opening hours: 11:00AM – 9:00PM
Phone: 03-5363-9188
Ginza store
Miyuki Bldg. 1F-4F, 5-6-12, Ginza, Chuo-ku, Tokyo 104-0061
(2-minute walk from Ginza Station, Exit B3)
Opening hours: 11:00AM – 8:00PM
Phone: 03-3571-2588
Aoyama store
Minamiaoyama Hashimoto Bldg. 1F, 5-4-40, Minamiaoyama, Minato-ku, Tokyo 107-0062
(4-minute walk from Tokyo Metro Omotesando Station. Exit B1)
Opening hours: 11:00AM – 8:00PM
Phone: 03-6418-9388
Website: http://www.en.komehyo.co.jp/
---
2. Roko Shira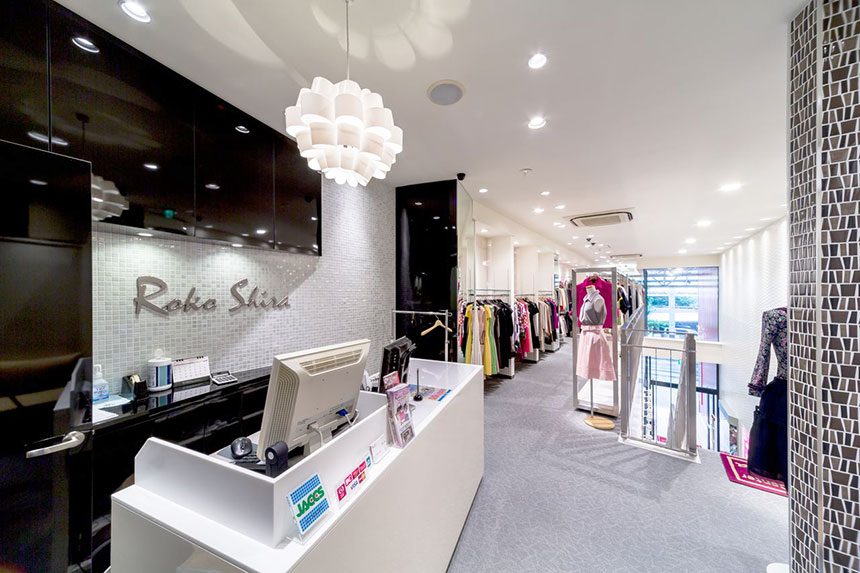 (Image: Roko Shira)
Roko Shira is one of Japan's biggest luxury store chains, with five stores in Tokyo, Nagoya, and Osaka. With its flagship store found at Ginza, Roko Shira stands very much at home on one of Tokyo's most luxurious and fashionable streets.
What's great about Roko Shira is that each item among their huge well-curated 5,000-item inventory is checked closely for quality and authenticity. It is also affiliated with the Association Against Counterfeit Product Distribution (AACD) so that customers are assured that every product is genuine. Whether the item is brand new or second-hand, the store implements a strict high-quality maintenance protocol. Care for items does not end at the Roko Shira store but extends beyond purchase via a warranty against defects in material or workmanship. Closing these sweet deals at Roko Shira is that every sale that meets the minimum 10,001 yen is tax-free.
What are on offer: Bags, watches, jewelry, etc.
Brands on offer: Hermes, Chanel, Louis Vuitton, Rolex, etc.
CONTACT
Ginza store
2-4-19 Ginza, Asano Dai-san Building
B1F & 1F & 2F, Chuo-ku, Tokyo, 104-0061
(Tokyo Metro Ginza Station, Exit B4, 5 mins walk down Namiki Street)
Phone: 03-3538-6421
Shinjuku store
1-17-1 Kabuki-cho,
Kurita Building 1F, Shinjuku-ku,Tokyo, 160-0021
(JR Shinjuku Station, Exit East, 3 mins walk to Alta Building)
Phone: 03-5385-8725
---
3. TWC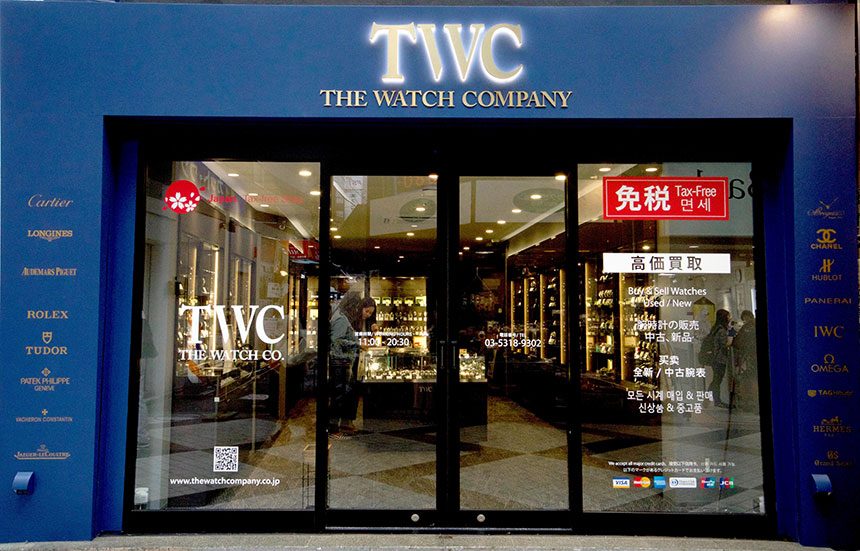 (Image: TWC)
TWC, also known as The Watch Company, is selling brands such as Omega, Patek Philippe, Rolex, Hublot, and Cartier – definitely a piece of heaven on every dedicated watch collector's earth. To guarantee that every watch that enters TWC's inventory is genuine, the store directly purchases from their source and never through a middle man. This allows them to buy the item at a lower price, thereby also allowing them to sell it at the lowest price possible.
Foreign shoppers can take advantage of TWC's duty-free shopping which lets them bring home genuine upscale watches at an 8% consumption tax exempt. To be able to qualify for tax-free purchase, shoppers must present a passport at the time of purchase, must be staying in Japan for no more than 6 months, and seal of verification must be stamped on passport upon entry to the Land of the Rising Sun.
All of TWC staff are multilingual, providing good service to both Japanese and overseas customers.
What are on offer: Watches
Brands on offer: Omega, Patek Philippe, Rolex, Hublot, Cartier, Tudor, Panerai, etc.
CONTACT
Address: 5 Chome-58-6, Nakano, Nakano-ku, Tokyo 164-0001 (5-minute walk from JR Nakano Station, inside Sun Mall Shopping Street)
Phone: 03-5318-9302
Website: https://www.thewatchcompany.co.jp/en/
Email: [email protected]
---
4. BrandFirst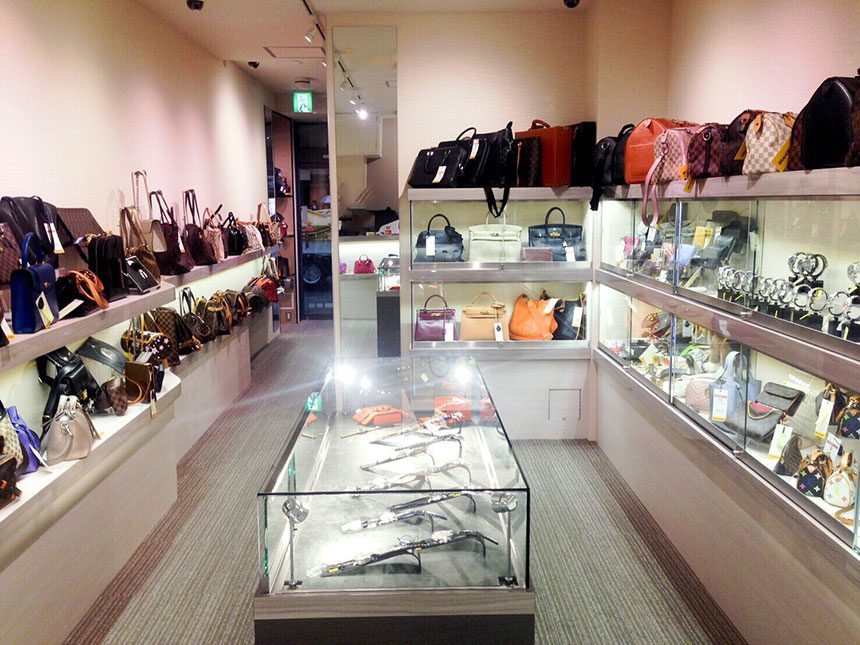 (Image: BrandFirst)
If designer handbags are your guilty pleasure, BrandFirst must make it to the top of your shopping itinerary in Tokyo. The store offers brand new, old new, and pre-owned luxury purses. BrandFirst's key to selling at the lowest price possible is to source high-end handbags from different parts of the globe. No middle man means doing away with unnecessary additional costs.
BrandFirst boasts of a huge collection of designer purses that features some of the most sought-after labels including Hermes, Coach, Chanel, Fendi, and Louis Vuitton. Bag collectors in the quest for a certain handbag can make a request with the store and BrandFirst will oblige to search for it. Complementing their collection of arm candies is their stash of authentic designer watches that are offered at low prices.
BrandFirst staff are multilingual, they speak Japanese, Chinese, English, and Korean.
What are on offer: Bags and watches
Brands on offer: Hermes, Coach, Chanel, Fendi, Louis Vuitton, Rolex, Tudor, Patek Philippe, etc.
CONTACT
Address: 1 Chome-18-7, Kabukicho, Shinjuku-ku, Tokyo 160-0021 (5-minute walk from JR Shinjuku Station)
Opening hours: 11am – 10pm
Phone: 03-6205-6685
Website: http://www.brandfirst.com/
Email: [email protected]
---
5. Daikokuya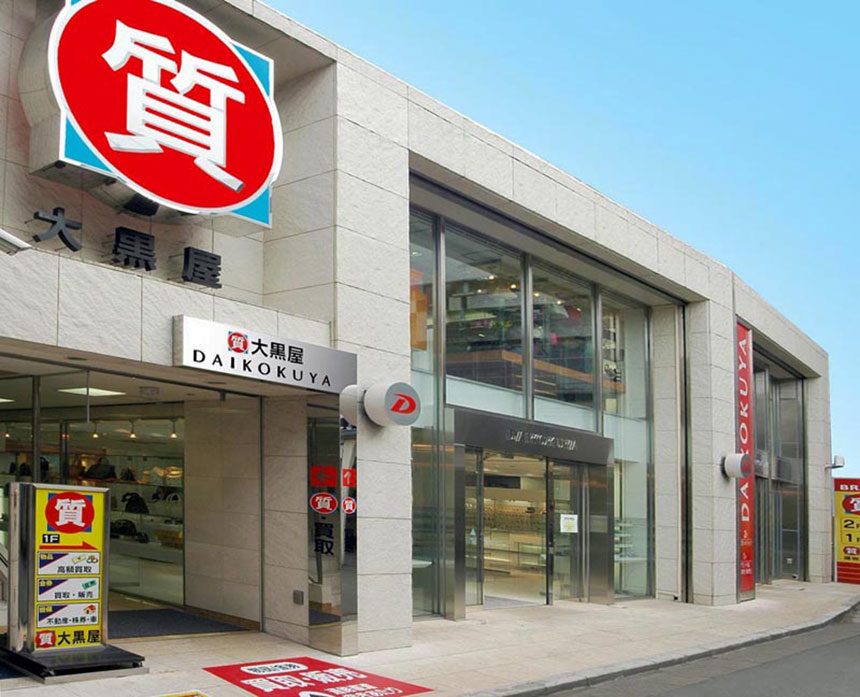 (Image: Daikokuya)
Daikokuya is one of the oldest established luxury stores in Japan. Founded in 1947, the store offers buying, selling, and pawning of precious metals and stones, jewelry and watches, and other brand-name valuables. This chain of stores has 25 branches around Japan, 10 of which can be found in Tokyo, including their flagship store in Shinjuku. To cater to different nationalities of shoppers, Daikokuya employs staff that could speak English, Chinese, or Thai. Daikokuya also has a staff of certified appraisers who check the authenticity and condition of every product pawned or sold at the store.
While Daikokuya offers the convenience of online shopping, nothing beats paying the shop a visit because on-site purchases are subject to an 8% tax exemption. Luxury handbags and watches are the main attraction at this 71-year old institution but other items that catch the fancy of both male and female shoppers are designer clothes, scarves, wallets, and shoes.
What are on offer: Precious metals and stones, jewelry and watches, bags, clothes, shoes, etc.
Brands on offer: Christian Dior, Chloe, Omega, Tiffany, Ferragamo, Jimmy Choo, Hublot, etc.
CONTACT
Shinjuku flagship store
SHA Bld. 1F, 3-23-14, Shinjuku, Shinjuku-ku, Tokyo 160-0022
Opening hours: 11:00 – 21:00
Phone: 0120-787-677
Other outlets: Shibuya, Ginza, Roppongi, Azabujuban, Ikebukuro, Ueno