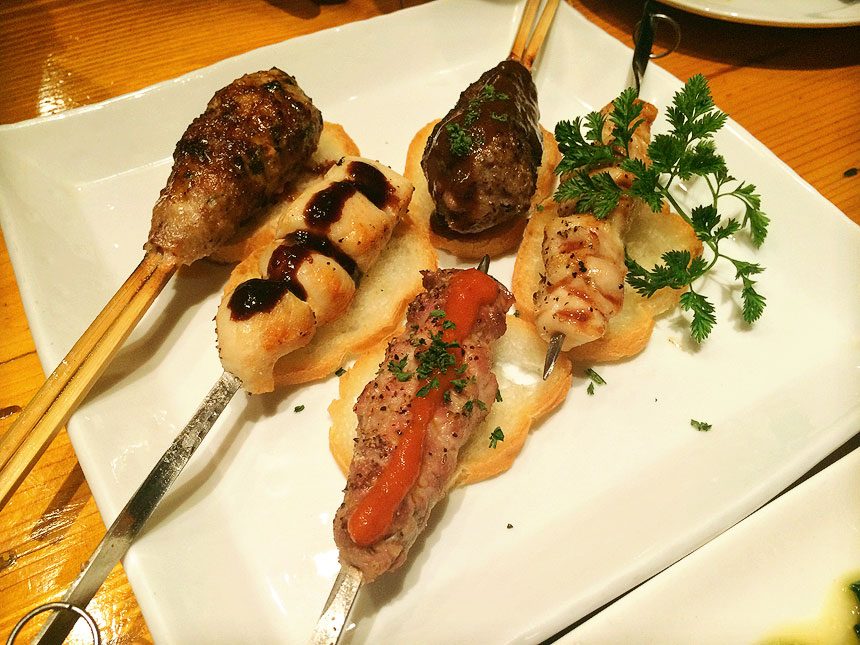 (Image: toyohara)
Like most Japanese food, kushiyaki has a funny ring to it, and it's practically hard to imagine what it exactly is. To describe it in a way most of us understand, kushiyaki is skewered meat, fish and/or vegetable that is grilled to delicious perfection then often glazed with a sweet-savory sauce.
Kushiyaki is easy to get by in Tokyo. You can find it in pubs, on the streets, and it's also a common fare at festivals, something that must not be missed when in the city.
It matches well with a shot of sake and happy talks with friends, but even without either, it's easy to consume sticks after sticks of kushiyaki.
Here are the best places to have kushiyaki in Tokyo.
OMOIDE YOKOCHO (Memory Lane) | Shinjuku
For a long stretch of kushiyaki pubs and stalls
What to order: Leek wrapped in bacon, Pork belly, Chicken meatballs
Price range: 250 to 350 Yen ($2.25 to $3.14)
When: 15:30 – 24:00 Daily
Where: 160-0023 Nishishinjuku, Tokyo
YAKITORI IMAI | Sendagi
For a wide selection of wine to complement juicy and flavorful kushiyaki
What to order: White asparagus, Liver and strawberry, Chicken tail
Price range: 1,000 to 5,000 Yen ($8.99 to $44.93)
When: 11:00 – 14:00; 18:00 – 22:00 Daily except Mondays
Where: 2-29-4 Sendagi, Bunkyo-ku, Tokyo
UCHIDA | Katsushika
For affordable kushiyaki loved by locals
What to order: Kashira, Nikomi, Shiro
Price range: 150 to 500 Yen ($1.35 to $4.49)
When: 11:30 – 14:30; 17:30 – 22:00
Where: 1-18-8 Nakamiseshoutengai, Tateishi, Katsushika, Tokyo