UniCredit Bank
Moscow Travel Guide

/

August 29, 2017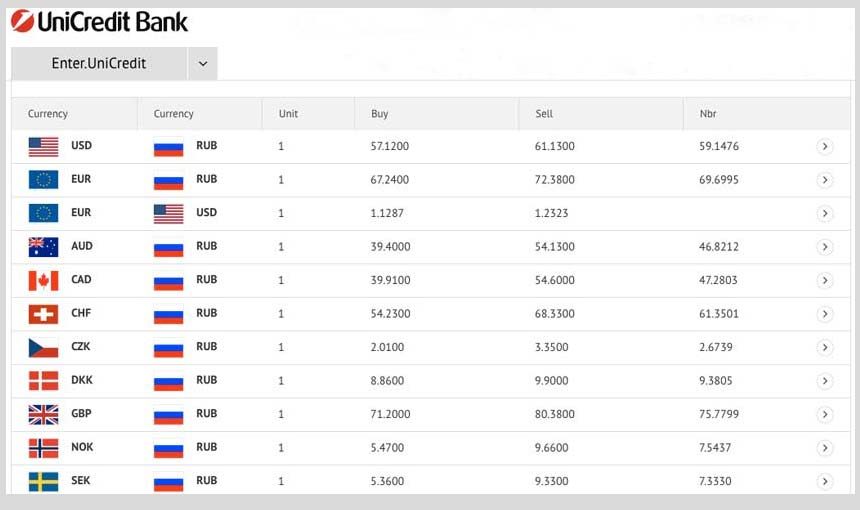 Image credit: UniCredit Bank
Formerly known as International Moscow Bank, UniCredit Bank is a leading bank in Russia that has a strong presence in Europe. Once enter a branch of this bank, you will recognize that they have a dedicated currency exchange counter to serve people in need of buying Rubles.
What is even better is that the variety of currencies UniCredit Bank accepts is wider than which are accepted by its counterparts. USD, EUR, GBP, CHF, JPY, CAD, DKK, NOK, and SEK are among those.
Note that a couple of brands among the recommended below are open on Saturday.
Here is the link to UniCredit Bank's daily exchange rates.
RECOMMENDED BRANCHES
1) UniCredit Bank Headquarters
The bank headquarters is located along the Moscow River and less than a 7-minute walk from Park of Culture metro station
Address: Prechistenskaya naberezhnaya, 9, 119034 Moscow, Russia
Phone: +7 800 700-10-20
Opening hours: Mon to Thu 09:00 – 17:00, Fri 09:00 – 16:00
2) UniCredit Bank branch near Moscow Operetta Theatre
Its location is just a 2-minute walk from Moscow Operetta Theatre
Address: Bolshaya Dmitrovka ul., 10, 107031 Moscow, Russia
Phone: +7 800 700-10-20
Opening hours: Mon to Fri 09:00 – 20:00, Sat 10:00 – 17:00
3) UniCredit Bank @ Zvenigorodskoye branch
This branch is located at the same building with the Post Office on Zvenigorodskoye street
Address: Zvenigorodskoye sh., 3А, 123022 Moscow, Russia
Phone: +7 495 258-72-00
Opening hours: Mon to Fri 09:00 – 20:00, Saturday 10:00 – 17:00
4) UniCredit Bank @ Myasnitskaya branch
This branch is situated at the same building with the Barbizon Art Gallery
Address: Myasnitskaya ul., 24/2, 101000 Moscow, Russia
Phone: +7 495 258-72-00
Opening hours: Monday to Friday 09:00 – 20:00
5) UniCredit Bank @ Yartsevskaya branch
Its location is a 4-minute walk from Molodezhnaya metro station
Address: Yartsevskaya ul., 22с1, 121351 Moscow, Russia
Phone: +7 800 700-73-00
Opening hours: Mon to Fri 09:00 – 20:00, Sat 10:00 – 17:00
Banks and Money Changers in Moscow with Best Exchange Rates