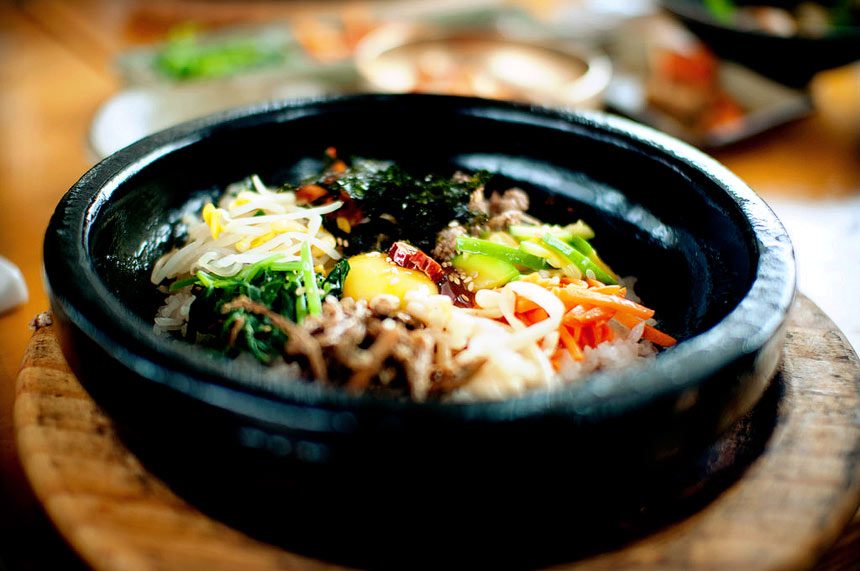 (Image: SnippyHolloW/Flickr)
Happiness does not always need a profound definition. In Seoul, happiness can be conveniently found in a sizzling bowl of bibimbap.
As pleasing as the colors of each ingredient in this dish are, it's when you finally mix all the elements together and put a scoopful of it in your mouth you can truly understand that the feast of the eyes was just a prelude to a more exciting surprise.
This filling combination of white rice with sautéed and seasoned vegetables, chili paste, soy sauce, fermented soy bean paste, egg and beef slices promises to leave you grinning from ear to ear.
Ranked number 40 on the World's most delicious foods readers' poll made by CNN Travel in 2011, bibimbap will not fail to please anyone.
Here's where to get the best bibimbap in Seoul.
GOGUNG | Jung-gu
For a variety of good bibimbap in a traditional setting
What to order: Bibimbap with yukhoe, Octopus bibimbap, Jeonju
Price range: 10,000 to 15, 000 won ($8.73 to $13.08)
When: 09:00 - 22:30 daily
Where: 12-14, Chungmuro 2-ga, Jung-gu, Seoul
SAE BYUK JIB | Gangnam - gu
For your daily fix of bibimbap that you can get anytime of the day as it is open for 24 hours
What to order: Yukhoe bibimbap, Galbi, Seonjitguk, Korean barbecue
Price: 10,000 won ($8.73)
When: 24 hours daily
Where: 129-10 Cheongdam-gong, Gangnam-gu, Seoul
MOKMYEOKSANBANG | Jung-gu
For authentic Korean cuisine in an astoundingly beautiful scenic spot
What to order: Bibimbap, Korean dates, Korean teas, Sanbang
Price range: 6,000 to 28,000 won ($5.24 to $24.46)
When: 11:00 - 21:00 daily
Where: Yejang dong, Jung-gu, Seoul