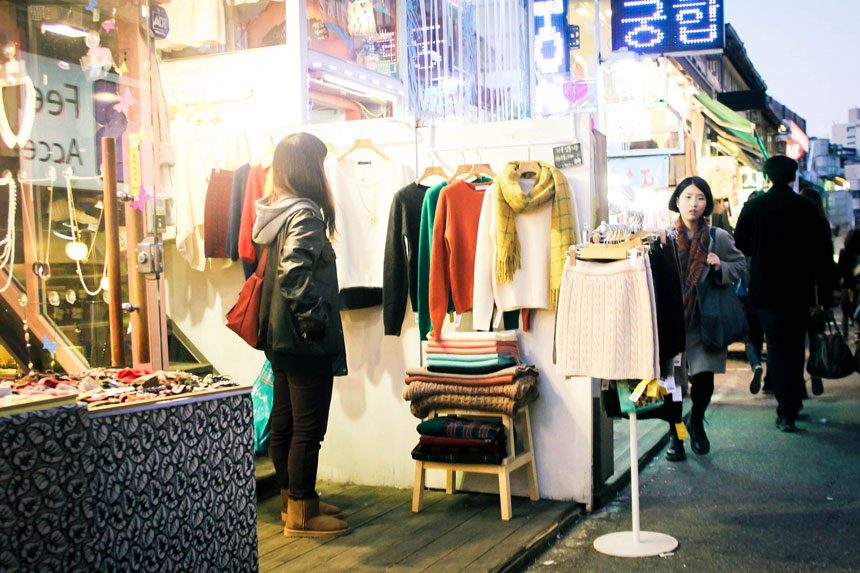 (Image: therealrealjd)
The sea of little shops near Hongik University forms a popular shopping area called Hongdae. Cute cafes, art streets, art book shops, art galleries, and clubs, together with fashion shops, make the place a fun mecca where the young can enjoy life both day and night.
Highlights
A place to hunt for indie fashion items: If you love sweet and feminine clothes, shop at Ewha Womans University shopping street. But if you favor indie fashion, then Hongdae Shopping Area is for you. Some compare Hongdae with Harajuku in Japan, so there must be a reason. Freedom of self-expression is the spirit of this youthful area. And indie fashion is a part of the culture there.
Saturday Hongdae Free Market (2pm to 6pm) is a weekly event for hand-made products: Don't miss out on this if you have a weekend in Seoul. Hongik University with its famous arts programmes drenches Hongdae atmosphere in art. Just come there to look for unique handcrafted goodies and enjoy exhibitions introduced by young local artists. Note that this market is only active from March to November.
The best bargains in Hongdae can be found on sales racks in front of many shops. The discounted items are mostly available at the price of KRW 10,000 ($11.42) each.
What are on offer: Fashion clothes, hats, shoes, bags, accessories, stationery supplies, and furniture.
Opening hours: 13:00 – 22:00
How to get there: Subway Line 2, Hongik University station, Exit 5