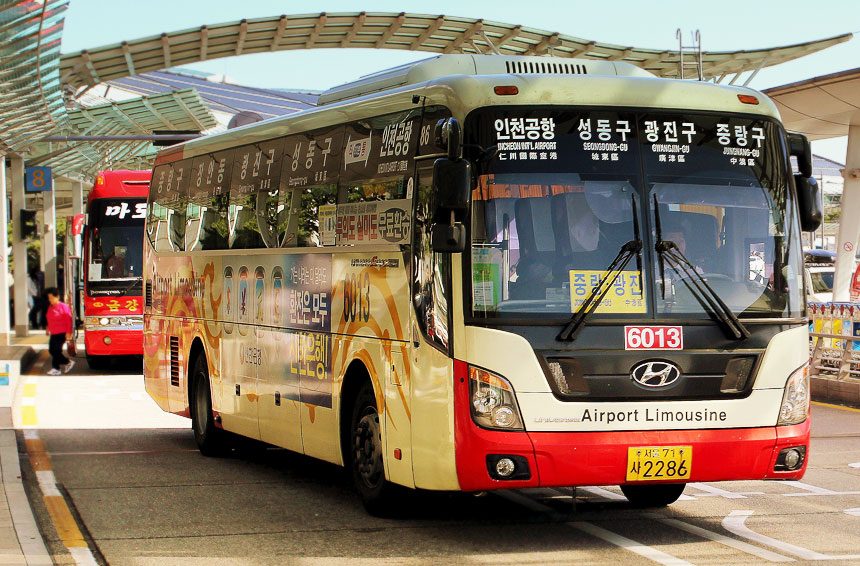 (Image: calflier001/Flickr)
Taking an airport bus is an affordable and comfortable way to go from the airport to central Seoul.
Even though it's a little more expensive than taking the Airport Express train (see above), it's a more relaxing way to reach your destination, since there is a large chance you'll have to stand on your trip to Seoul Station in the train.
The Airport buses, meanwhile, are equipped with comfy seats and air conditioning, which makes it a perfect choice for those who want to relax or take a nap for a little more than an hour after a long flight.
There are two types of airport buses: standard and deluxe buses. Standard buses make more stops along the way, thus reaching the destination slower than deluxe buses. Standard buses are also more crowded.
Deluxe buses, which are provided by KAL Limousine company, are more spacious and make fewer stops along shortened routes, which means they reach the destination faster than standard buses.
Another great advantage of airport deluxe buses is that they take you straight to your hotel (if it's in the list), while the airport express trains can only take you as far as a subway station.
You can purchase bus tickets at the Airport Bus Ticket Booth outside the Arrival Area on the 1st floor.
Check the ticket to see the corresponding gate, bus stop location, and departure time.
Travel time: 65 to 80 minutes (without traffic)
Cost: 9,000 – 10,000 won ($7.93 – $8.81) for standard bus; 14,000 – 16,000 won ($12.33 – $14.1) for deluxe bus; and 16,000 won ($14.1) for night bus
Service hours: 24 hours
Service schedule: Every 10 to 15 minutes (every 40 to 50 minutes for night buses)
Notes
– How to read the ticket: the number shows the gate number, the letter shows left (A) or right (B) side ('02A' find your bus on the left side of Gate 2).
– Airport buses have pre-recorded English announcements on board.