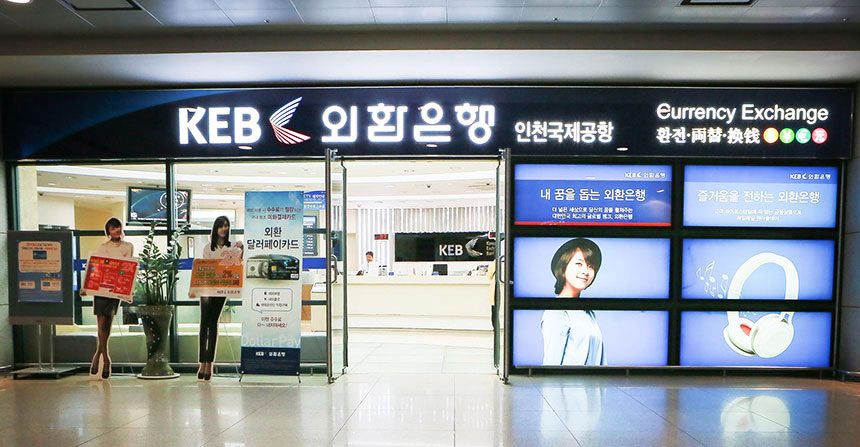 (Image: KEB Hana Bank)
As the largest foreign exchange bank in Korea, KEB Hana Bank has specialized services that serve visitors with the need of exchanging money. The bank is highly recommended because its buying and selling rates are often better than its counterparts'.
KEB Hana Bank has more than 20 branches in Seoul, which are conveniently located in commercial and tourist districts. Most of the branches have Global Desks with dedicated English-speaking staff.
Although the standard operating hours of Seoul banks are on Monday to Friday from 09:00 to 16:00, some of KEB Hana Bank's branches open their doors to cater for people's needs on Sundays.
Best rates for
– EUR
– GBP
– USD
– JPY
– CNY
– CAD
– AUD
– MYR
– SGD
Recommended branches
1. KEB Hana Bank @ Sogong-dong
– This branch is within walking distance from Seoul City Hall and Chinese Embassy
– Address: 16 Namdaemun-ro 7-gil, Sogong-dong, Jung-gu, Seoul, South Korea
– Phone: +82 2-754-6050
– Opening hours: Monday to Friday 09:00 – 16:00
2. KEB Hana Bank @ Sejongno
– This branch is only 2-minute walk from Gyeongbokgung Palace
– Address: 42 Jong-Ro 1-Gil Jongno-Gu, Seoul, South Korea
– Phone: +82 2- 733-9911
– Opening hours: Monday to Friday 09:00 – 16:00
3. KEB Hana Bank @ Itaewon
– It is easy to walk from Itaewon Station to this branch
– Address: 737-28 Hannam-dong, Yongsan-gu, Seoul, South Korea
– Phone: +82 2-794-1111
– Opening hours: Monday to Friday 09:00 – 16:00
4. KEB Hana Bank @ Gangnam-gu
– There are Foreign VIP Service and Global Desk at this branch
– It is within walking distance from Yeoksam station, which is one station away from Gangnam station
– Address: 152 Teheran-ro, Gangnam-gu, Seoul, South Korea
– Phone: +82 2- 554-2745
– Opening hours: Monday to Friday 09:00 – 16:00
5. KEB Hana Bank @ Toegye-ro
– This branch is open 6 days a week, including Sunday
– It is 3-minute walk from Myeong-dong station
– Address: 299 Toegye-ro, Jung-gu, Seoul, South Korea
– Phone: +82 2-279-2171
– Opening hours: Monday Friday 09:00 – 16:00; Sunday 10:00 – 16:00