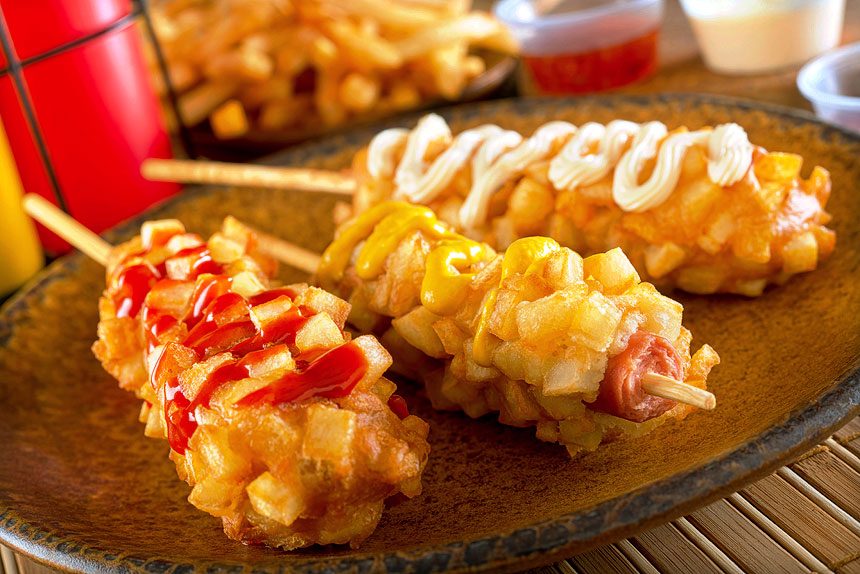 (Image: fudio)
In Korean folklore, tokkebi is a ruthless creature that casts evil spells on mean people. Threats of it were often used to scare misbehaving children who wouldn't do their homework at night. In Korean street food culture, however, tokkebi is a deep-fried masterpiece of French fry-crusted corndog.
For some reason, Koreans have a deep fascination for hot dogs and sausages that they channel their creativity into coming up with interesting recipes – an excellent product of which is tokkebi. Some vendors bring it up a notch by crusting tokkebi with crushed ramen – or a combination of the two!
If you're into hotdogs, deep fried batter and French fries, nobody will be able to stop you from getting your hands on this delicious monster.
Here are the best places to have tokkebi in Seoul.
NAMDAEMUN MARKET | Jung-gu
For an eclectic Seoul street food vibe
What to order: Tokkebi, Korean Fried Pancakes, Bulgogi
Price range: 500 to 8,000 Won ($0.43 to $6.91)
When: 10:30 - 02:00 Daily
Where: 21 Namdaemunsijang 4-gil, Namchang-dong, Jung-gu, Seoul
GWANGJANG MARKET | Jongno-gu
For a no-fuss, zero-frill street food trip
What to order: Tokkebi, Ddeokbokki, Pajeon
Price range: 500 to 5,000 Won ($0.43 to $4.32)
When: 11:00 – 23:00 Daily
Where: 88 Changgyeonggung-ro, Jongno-gu, Seoul
KONDAE | Gwangjin-gu
For street food tripping in one of Seoul's hottest spots
What to order: Tokkebi, Ramen-crusted Tokkebi, Waffles
Price range: 500 to 7,000 Won ($0.43 to $5.99)
When: 11:00 – 02:00 Daily
Where: Neungdong-ro, Jayang 1(il)-dong, Gwangjin-gu, Seoul