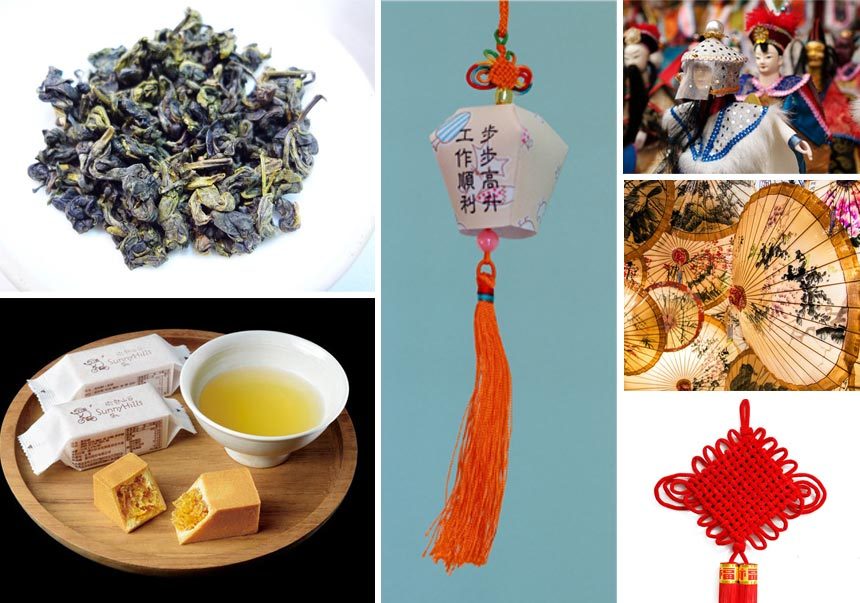 Be it edible gifts, decorative mementos, or wearable stuff like jewellery and fashion clothes, Taipei has got it covered, all in a cultural way. Scroll down to have some ideas about all the best products available in the capital of Taiwan so that you won't miss out on getting the ideal gifts for yourself or your loved ones.
---
1. Pineapple Cakes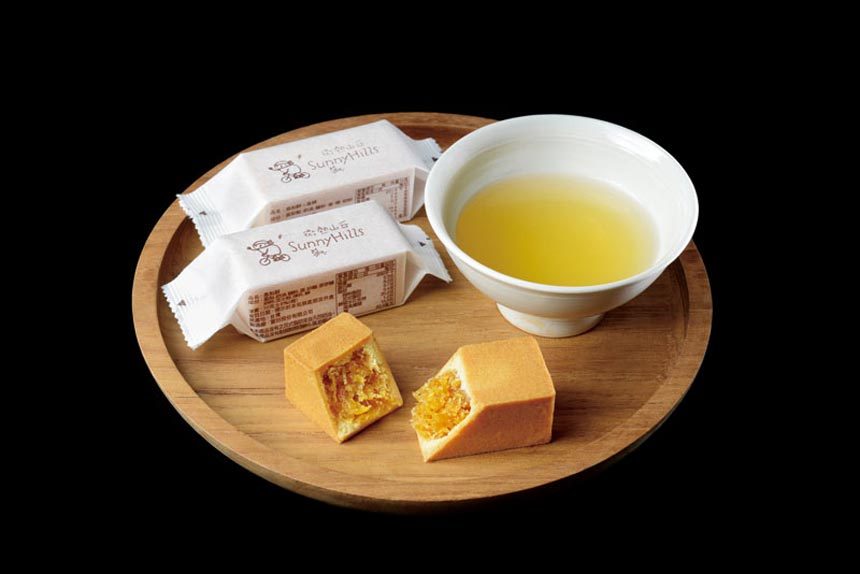 (Image: photomanm.com)
Pineapple cake, locally known as Fengli Su, is among the best sweets Taiwan has to offer to visitors. The beauty of this cake lies in both the skin and the filling – the crumbly crust is so fragrant and creamy while the filling made with pineapple (or other fruits) jam is just so addictive, making it a great companion to tea or coffee.
These cakes have a shelf life of at least one month, so you can rest assured that they will arrive home safe. They are also well packaged in nice boxes which a true gift always needs to have.
BEST GIFTS FOR: Friends, co-workers, children
PRICING: From NT$15 ($0.50) to NT$45 ($1.50) per piece
PORTABLE LEVEL: Manageable
WHERE TO BUY
SunnyHills, No.1, Alley 4, Lane 36, Section 5, Minsheng East Road, Taipei, Taiwan
Chia Te Bakery, No. 88, SEc 5, Nanjing East Rd, Taipei 105, Taiwan
Shun Chen Bakery, No. 320, Sec. 4, Zhongxiao E. Rd., Daan Dist, Taipei, Taiwan
---
2. Taiwanese Oolong Tea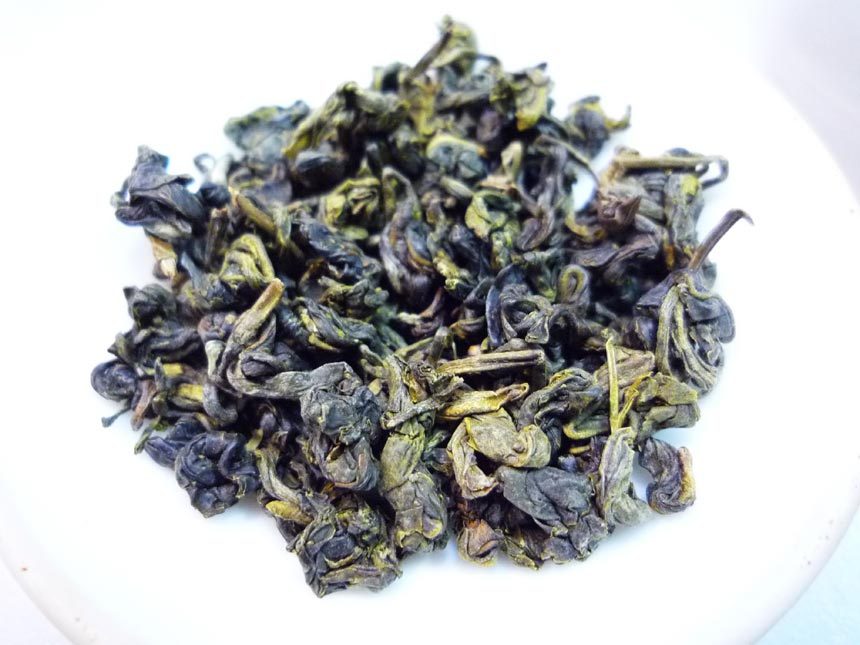 (Image: Formosa Wandering)
Tea is a big thing in Taiwan, in terms of cultivation, consumption and celebration. It is grown in many parts of the country, mostly consumed by locals, and celebrated in annual contests for the best oolong.
Oolong tea (black dragon tea) is the pride of Taiwanese tea culture in both variety and quality. The famous black dragon tea includes Dongding, Dongfang Meiren, Alishan, Lishan, Pouchong, Ruan Zhi, Jin Xuan, and Black Oolong.
Go for the Dongding, Pouchong and Ruan Zhi if you like light tea. Dongfang Meiren and Alishan are just nice for those appreciate the fruity aromas while Pouchong and Osmanthus Oolong are the perfect match for the taste buds that love a floral balance in a brew.
BEST GIFTS FOR: Parents, friends, or co-workers who are tea fans
PRICING: From $15 to $50 per 100 gram of fine quality oolong tea
PORTABLE LEVEL: Manageable
WHERE TO BUY
Hui Liu No.9, Lane 31, Yung-Kang St., Taipei, Taiwan
Chuan-shang Tea Store No.58 Heng Yang Road, Taipei, Taiwan
Ten Ren tea at Nancy store Shin Kong Mitsukoshi, Nanjing Road Taipei 12 B2
---
3. Mini Sky Lanterns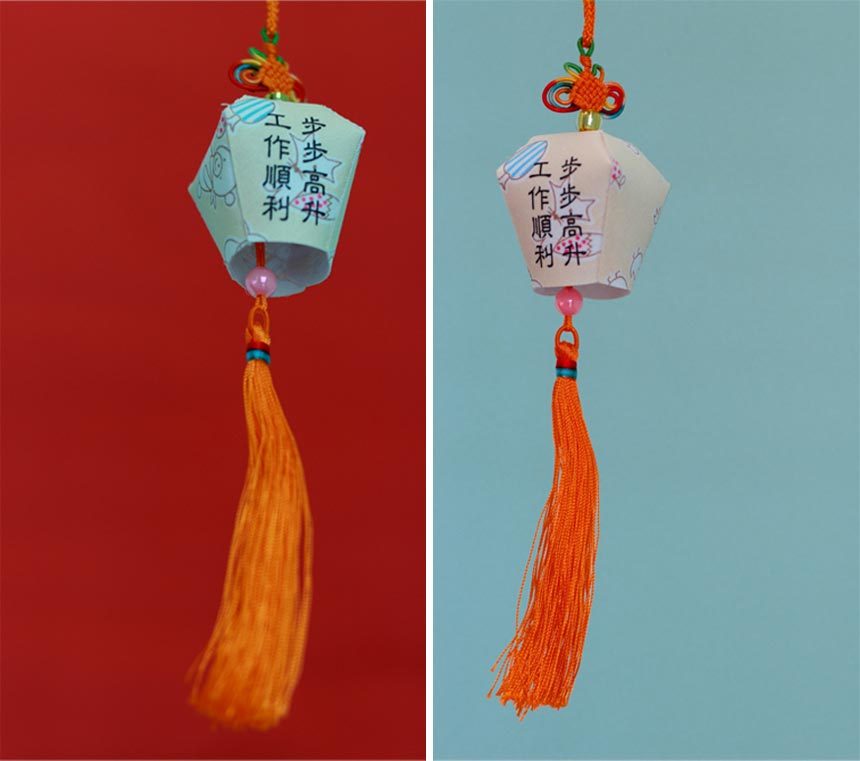 (Image: khengsiong)
Sky lantern releasing is one of the great things to do in Taipei, and bringing mini sky lanterns home is a meaningful way to introduce this culture to others.
Taipei sky lanterns come in various colors, including red, pink, orange, yellow, green, blue, purple and white. Each color conveys a wish that people want to send over to God, red for good fortune, yellow for success, and blue for hope, for example. It is always a good idea to gift the recipients the little lantern with the color expressing the wish to want to say.
Besides the normal mini sky lanterns, there are also LED versions that can glow in the dark.
BEST GIFTS FOR: Children, friends and co-workers
PRICING: NT$50 ($1.50) per normal mini sky lanterns; NT$100 ($3) per LED mini sky lanterns
PORTABLE LEVEL: Manageable
WHERE TO BUY
Ningxia Night Market on Ningxia Road, Datong District, Taipei City, Taiwan 103
Shifen Old Street in Pingxi District, New Taipei City, Taiwan 226
---
4. Taiwanese Glove Puppets (Budaixi)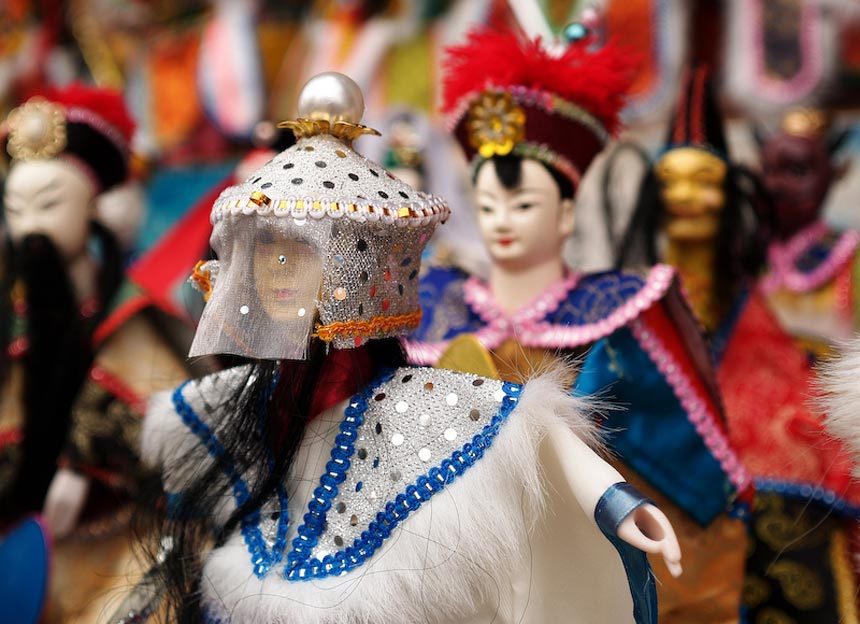 (Image: Sheu Hau Chow)
Glove puppetry has been a very big part of the entertainment industry in Taiwan for centuries. It is a type of Chinese opera that uses glove puppets to tell stories, including the popular folk tales.
Those have seen a Budaixi performance would agree that every puppet under the hands of puppeteers seems to have a soul and character. When the hands of the puppeteers are off, the unmoving puppets are just an art piece themselves.
Visitors can't take a puppet opera show home, but bringing back one or a couple of puppets is quite an easy thing to do.
BEST GIFTS FOR: Children and culture enthusiasts
PRICING: From NT$200 ($6.50)
WHERE TO BUY
Chang Yi Fang Puppet Creations, No.27, Lane 47, Yongkang Street, Taipei City, Taiwan
Puppetry Art Center of Taipei, 2F, No.99, Sec. 5, Civic Blvd., Songshan Dist., Taipei City 105, Taiwan (R.O.C.)
---
5. Chinese Knots (Zhongguo Jie)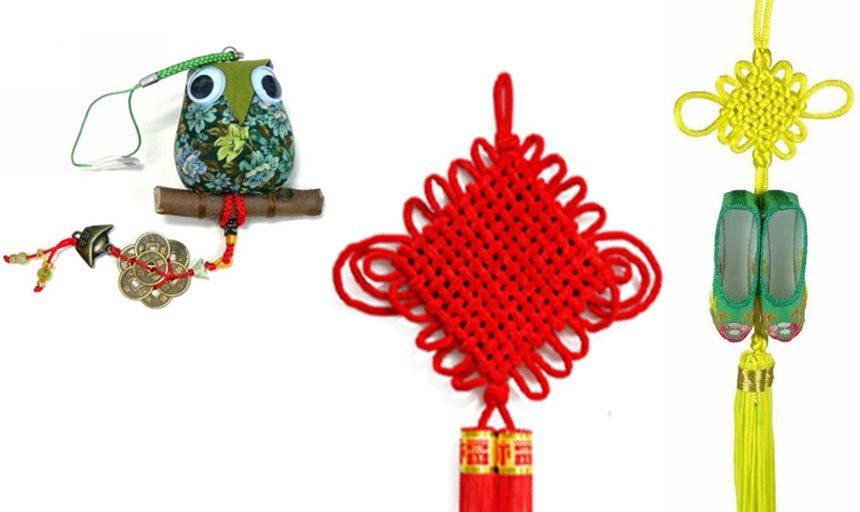 (Image: Taiwan Handicraft Promotion Center)
Chinese knots come in all different colors, shapes and sizes, but are very compact and light to transport. They are a good souvenir to bring back because they not only look pretty but also carry a history.
Types of Chinese knots to buy as a top suggestion would be the butterfly knot, which symbolizes fortune and blessings. The Partizan knot symbolizes career success, the twin fish knot represents abundance, and the popular twin coin knot is a wish of wealth for the recipients.
A large piece of traditional knots make a great cooperate gift while a small knot with a twist is just a nice souvenir for children.
BEST GIFTS FOR: Children, co-workers and friends
PRICING: From $0.70 up to $30.00
PORTABLE LEVEL:  Easy to manage
WHERE TO BUY: Taiwan Handicraft Promotion Center, No. 1 Xuzhou Rd, Zhongzheng District, Taipei City, Taiwan 100
---
6. Chinese Calligraphy Wall Scrolls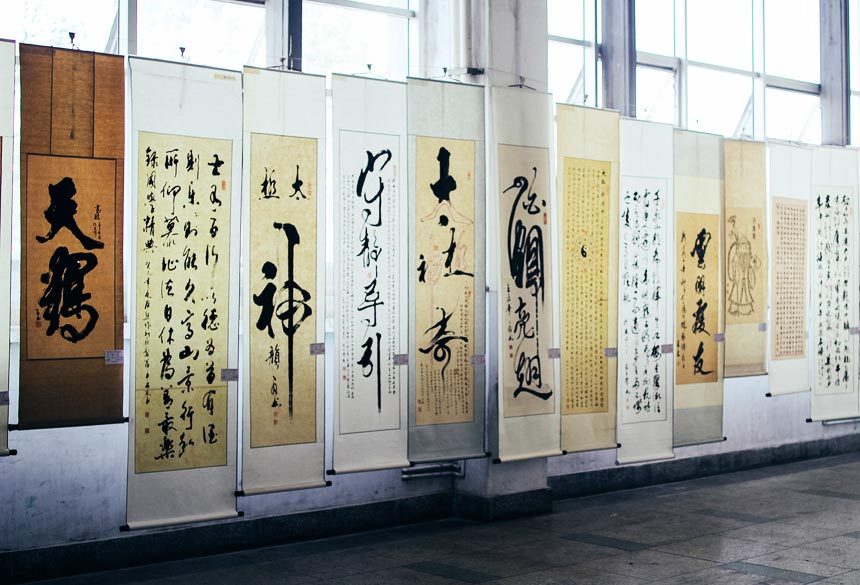 (Image: kosmoseleevike)
Chinese calligraphy is known to be a very artistic form of art, and wall scrolls are a way for this art to be showcased.
The amount of characters on each piece of wall scroll is completely different. Some pieces have only one character on while others may feature several or a short poem.
Types of Chinese calligraphy wall scrolls to buy could be something that has meaning for the person you are buying it for. The zodiacs are a very popular option, for example. Buying your friends a wall scroll with their Chinese zodiac sign on it is a clever way to express your caring.
BEST GIFTS FOR: Someone who appreciates art
PRICING: From $10
PORTABLE LEVEL: Manageable – roll it up then it should be fine for carrying around
WHERE TO BUY: Taiwan Handicraft Promotion Center, No. 1 Xuzhou Rd, Zhongzheng District, Taipei City, Taiwan 100
---
7. Oil Paper Umbrella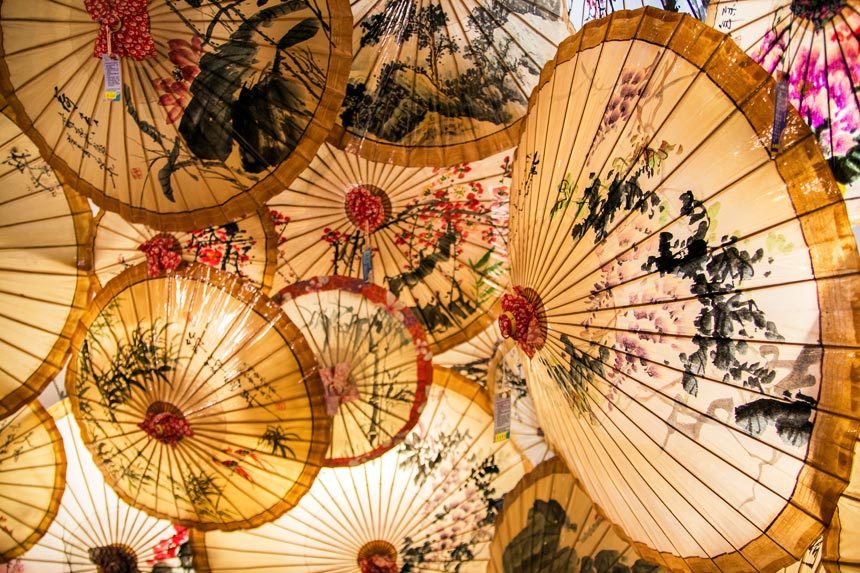 (Image: tsaiian)
To Hakka people (Han Chinese people), the paper umbrella itself symbolizes prosperity and good fortune. These waterproof umbrellas were originally used in every day life and in wedding ceremonies. These days, the artfully decorated oil paper umbrellas are a beautiful decorative item, appreciated by both locals and visitors.
There are different sizes and designs available for purchase, and the smaller the umbrella the better as it will be easier to fit into a luggage.
BEST GIFTS FOR: Female friends and family members
PRICING: From NT$400 ($13)
PORTABLE LEVEL: Hard to manage
WHERE TO BUY: Huashi Street Night Market Huaxi St., Wanhua Dist., Taipei City, Taiwan
---
8. Chinese Jade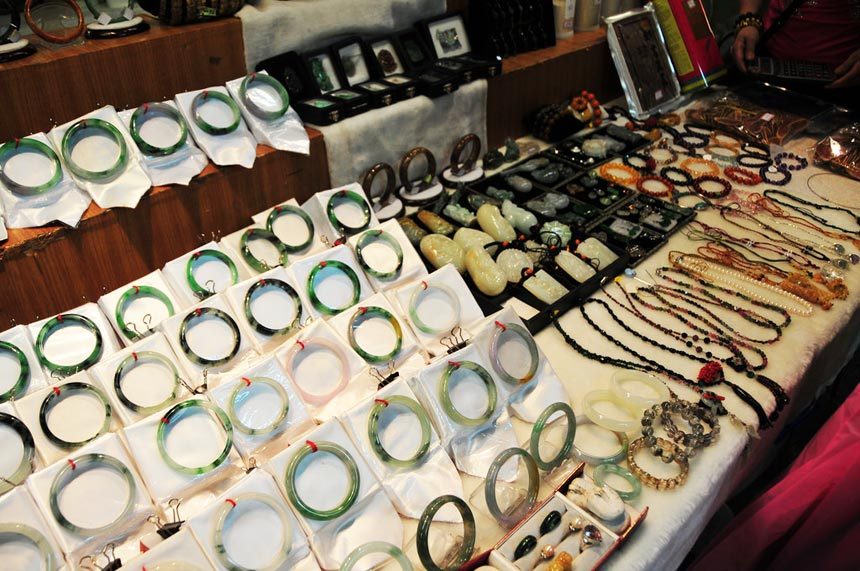 (Image: riNux)
Jade is considered as Taiwan's national pride with many meanings far beyond that of just a stone. It is believed to eliminate any bad spirits and to bring good luck and fortunate to whoever wears it.
To wear this gemstone beautifully and stylishly, just buy a piece of jade jewellery. Popular options include earrings, necklaces, and bracelets. Among those, jade bracelets are recommended by locals as it is believed that wearing jade on the wrist can benefit the heart.
In terms of color the darker pieces are meant to be better. Therefore if you want to bring back the very best piece available, it is recommended that you go for a darker shade of green, as opposed to a lighter shade.
BEST GIFTS FOR: The precious lady in your life – a wife, girlfriend or partner
PRICING: A few USD per fake item; a few hundreds USD per real item
PORTABLE LEVEL:  The fake is easy to manage, but the real items need special care
WHERE TO BUY: Jianguo Holiday Jade Market, Jianguo South Road, Zhongshan District, Taipei, Taiwan
---
9. Chinese Silk Products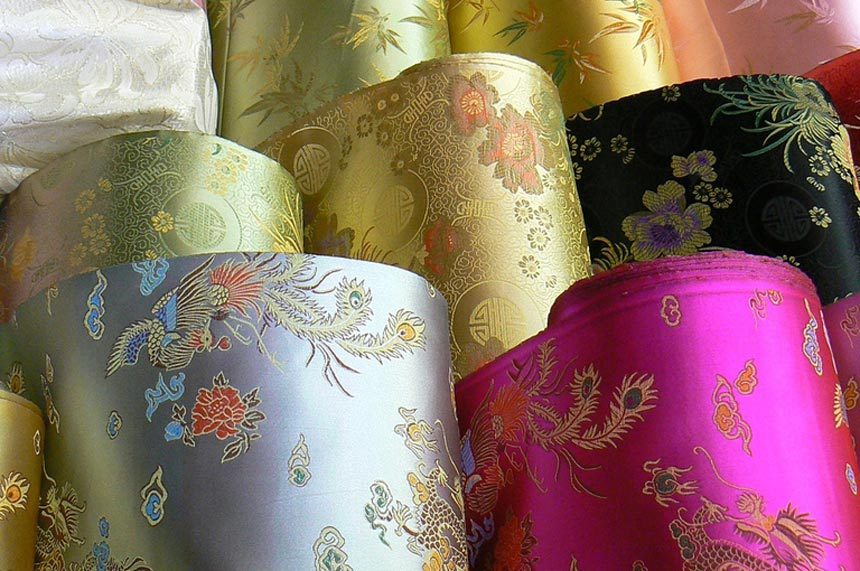 (Image: hto2008)
Silk and silk products need no introduction about their beauty and the luxury it represents. If you are looking to buy silk in your trip to Asia, Taipei is one of the places to get high quality Chinese silk.
Wufenpu Clothing Market is the popular shopping spot in Taipei to hunt for that perfectly matched items for yourself or the ladies you love. Silk cushion covers, pillowcases, ties, pyjamas, and sleeping dress can make a great gift, which can add a luxury touch and those feeling-good moments to our lives.
BEST GIFTS FOR: Yourself and the special ladies in your life – mother, and girlfriend/wife
PRICING: From $30
PORTABLE LEVEL: Lightweight and easy to be folded and fit into any luggage
WHERE TO BUY: Wufenpu Clothing Market – Alley 9, Lane 443, Yongji Road, Xinyi District, Taipei City, Taiwan 110
---
10. Rixing Typography Character Molds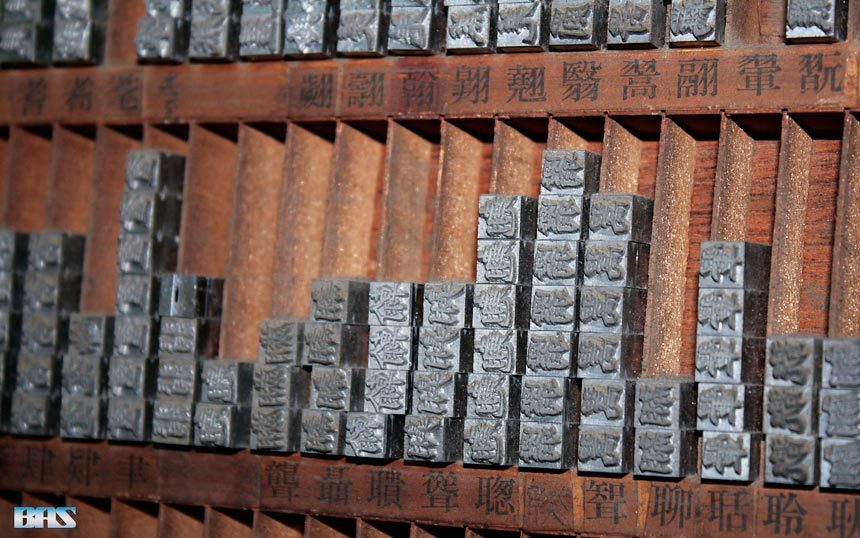 (Image: Baldwin Saintilus)
Rixing Typography, formerly a factory producing traditional Chinese character lead type, is now more of a museum that shows off the art of old-school printing. This place is famous for owning the last complete set of traditional Chinese character lead-type molds in the world.
A visit to Rixing Typography can give us a look straight into how traditional Chinese printing in the old days were, and if you feel impressive, just get a few molds for yourself or somebody at home. The molds with characters that mean "love", "peace", "hope", "luck" etc. can help in expressing our caring for the recipients.
BEST GIFTS FOR: Male friends or co-workers
PRICING: NT$3 ($0.10) to NT$50 ($1.70), depending on the size and design
PORTABLE LEVEL:  Small size – easily to fit into any luggage
WHERE TO BUY: Rixing Typography 13, Lane 97, Taiyuan Rd, Taipei City, Taiwan