10 Best Bangkok Nightclubs to Party All Night Long
Bangkok Travel Guide

/

July 13, 2017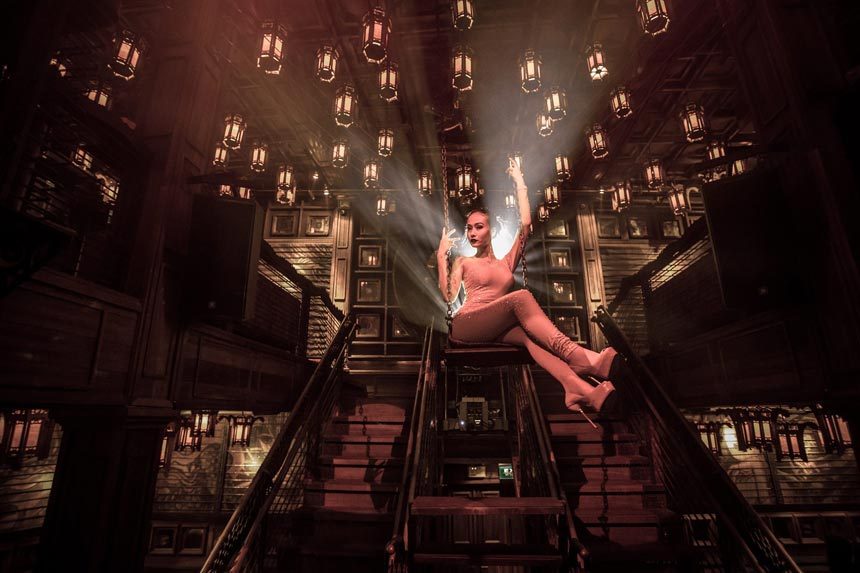 Image credit: Sing Sing Theatre
One simply does not go to Bangkok and not want to experience the epic nightlife for which the "Sin City of Asia" is known. While the city is notorious for cheap beer and seedy joints, it can offer unforgettable nightlife experiences for those looking for a good time without having to be confronted by bouncing balls and strange-looking reproductive parts.
It may be quite tempting to believe that nightlife is always about the same things any part of the globe -crazy music, crazy drinks, and crazy crowds, but it's not. Bangkok has great things to offer the varied creatures of the night, including the theatrical, the music buff, and the dance floor junkies.
Here's your guide to the 10 best Bangkok nightclubs to party all night long:
1. ONYX
For a world-class party experience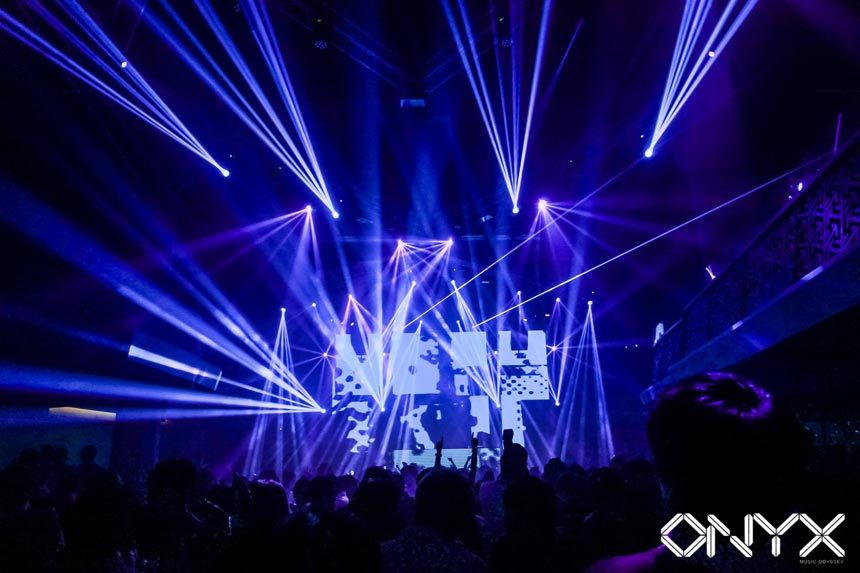 Image credit: Onyx
Cover Charge

Starts at 300 THB ($9)

Music

House, EDM, Tech, Electro

Crowd

Mostly locals

Opening Hours

Daily 20:00 – 02:00

Location

RCA
Highlights
World class partying in a gigantic venue: Onyx is where clubbers go to see, be seen, and experience world-class partying. The colossal dance club can easily accommodate 2,000 party-hungry guests.
Music by big names in international party scene: Onyx has had some of the most epic nights courtesy of international DJs such as The Chainsmokers, Marnik, and Steve Aoki. When those acts come to play, you can very well bet that all the beautiful people will come out to party.
Excellent laser light show: Possibly Onyx' best feature is its impressive laser show, which can send you into a trance, especially when you immerse yourself in the music. Making the whole show even more spectacular are the confetti cannons and dry ice extravaganza. If you wish to party with your posse in your own private space, VIP rooms of different sizes and specifications can be rented for the night.
2. CÉ LA VI Bangkok
For dancing with a view of the city's nightscape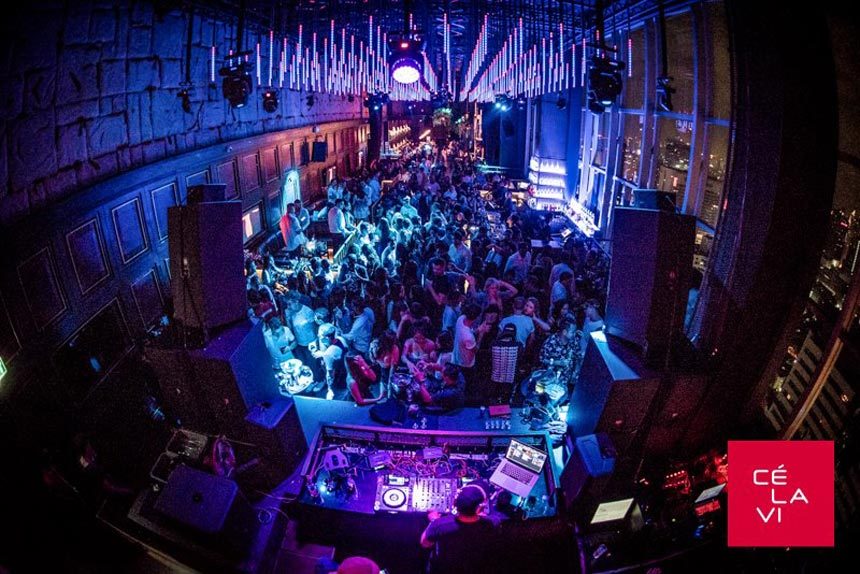 Image credit: CÉ LA VI
Cover Charge

Free entry (except on special events)

Music

Pop, Hip-hop, R'n'B, House

Crowd

Locals, Expats, and Tourists

Opening Hours

Tue to Thu: 18:00 - 02:00
Fri & Sat: 21:00 - 02:00

Location

Silom
Highlights
The best ladies' night in the city: Ce La Vi, formerly Ku De Ta Bangkok, holds the best ladies' night in the city. Ladies get free entry on Wednesdays – plus free-flowing sparkling wine the entire night. Definitely a great deal for the ladies, but also for the gentlemen as the women who frequent Ce La Vi are well-dressed, good-looking, and know how to get their dance on.
The decors make the club look like an adult playground: The club-slash-lounge has a strong opulent feel to it, and you could immediately tell as you step foot on the 39

th

 floor as there will be a candle-lit corridor leading you to the massive party area. Once you get past the doors, it's a wonderland of bedazzling lights, hypnotic professional dancers, and addictive cocktails – and that's always a good thing, isn't it?
The best view of the city's nightscape: With its rooftop location, Ce La Vi has a seriously enchanting view of the city's nightlights. It's a great spot to bring your romantic interest, or simply for catching a breather in between heavy partying.
3. Sing Sing Theater
For an enchanting throwback to the glamorous 1930s Shanghai party scene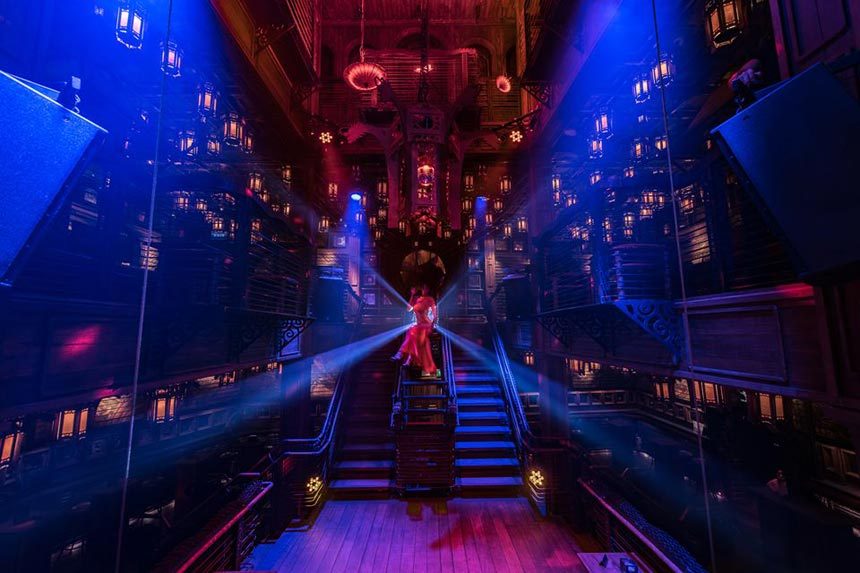 Image credit: Sing Sing Theater
Highlights
A high fashion retro ambience: If you're a big fan of theater and retro-Asian decors, make it a point to party at Sing Sing Theater at least one night. If you're not a big fan, you still should go because it is an experience you'll rarely get elsewhere. It is a moving diorama of Chinese décor, dragon murals, brilliant lighting, and men and women in modernized changshan and cheongsam.
A multi-entertainment spectacle: Sing Sing Theater is not your usual typical club where people go to dance, mingle, and get intoxicated. It is a fantastic place to go to when you wish to broaden your party experiences by watching artsy/radical dance performances, comedy skits and live musical numbers that are perfectly in sync with the blasting electro music.
Indulgent designer drinks: Club owners perfectly understand the importance of having a superb drink menu, and Sing Sing went all out in this aspect. Renowned "mixultants" Joseph Boroski and Nath Arj-Han pulled all stops to create a special drinks menu for Sing Sing, which includes theatrical cocktails such as Aztec Lady and Dove Pan.
4. Route 66
For an unforgettable night out, no matter your musical preference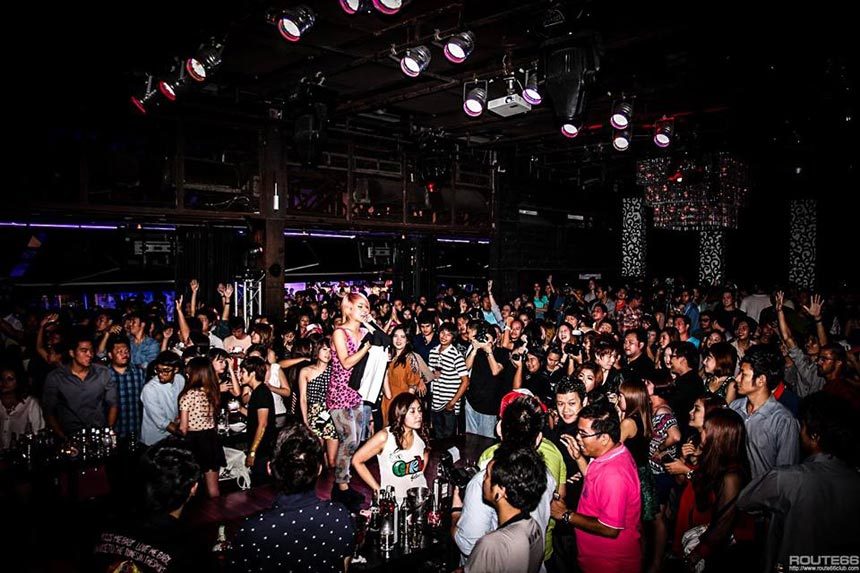 Image credit: Route 66
Cover Charge

300 THB ($9) for foreigners

Music

Hip-hop, R'n'B, Live band, EDM, House

Crowd

Mostly locals, college students

Opening Hours

Mon to Sat: 20:00 – 02:00
Suns: 20:00 – 12:00

Location

RCA
Highlights
Two party rooms on weekdays: Route 66 makes it a point to accommodate the different kinds of partygoers by having two rooms on Sundays through Thursdays – one with DJ-fueled beats and another with a live band playing an eclectic array of foreign and Thai hits.
Two MORE party rooms on weekends: The weekends always guarantee a packed crowd at Route 66 so how did they deal with that problem? Instead of driving the party crowd away, they decided to build two more party rooms, which they open on Fridays and Saturdays to add trance, electronic music, house, and Thai pop in to its party scene.
A great chance to party like a local – with the locals: RCA's most famous nightclub has no dance floor, but make no mistake about it, the dancing crowd can still get wild! When in Route 66, do as locals do, pick your table, pick your poison, and dance to your heart's content.
5. Levels Club & Lounge
For dancing to the most eargasmic EDM tunes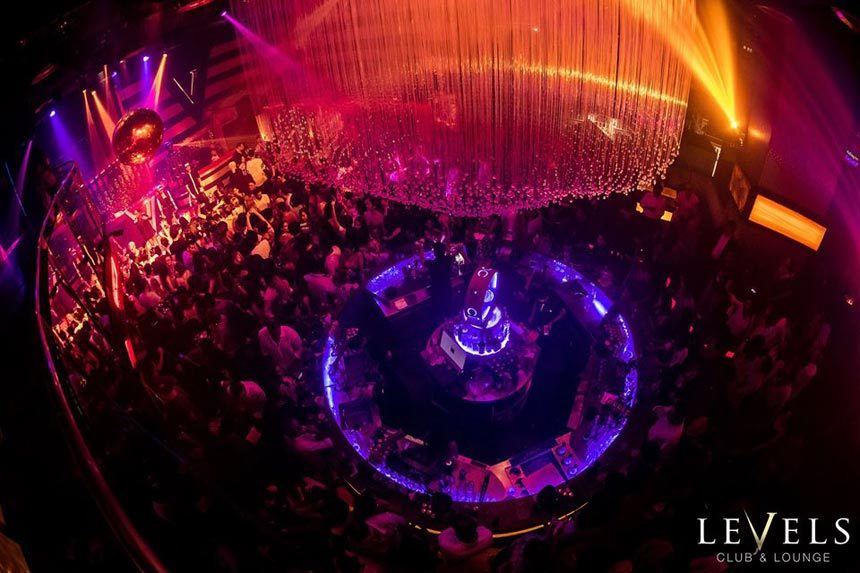 Image credit: Levels Club & Lounge
Cover Charge

Free entry (except on special events)

Music

EDM, Pop, Hip-hop, R'n'B

Crowd

Locals, expats, tourists, young professionals

Opening Hours

Daily 21:00 – 03:00

Location

Sukhumvit
Highlights
Well-executed layout: Levels' best feature is its layout: an al fresco cocktail lounge with a lovely view of the city lights, a high-ceilinged dance area for pop, hip-hop, and R'n'B lovers, and a secondary, more mysterious dance room for EDM fans. Either dance room has a state-of-the-art sound system so it's easy to get lost in the music.
Not to be missed international DJs: International DJs have graced Levels' DJ booth, including Dimitri Vangelis & Wyman, Eva T, and DJ Crespo. And whenever an international DJ spins at Levels, it always turns out to be massive.
Well-attended theme parties: Levels Club & Lounge throws theme parties on Friday nights such as Baywatch, Burlesque, and Playboy Mansion, which always end up wild as expected. Thursday ladies' nights are a treat for both ladies and gents as the girls receive free drinks and the guys get to see extremely gorgeous women.
6. Insanity Nightclub
For partying 'til the morning any day of the week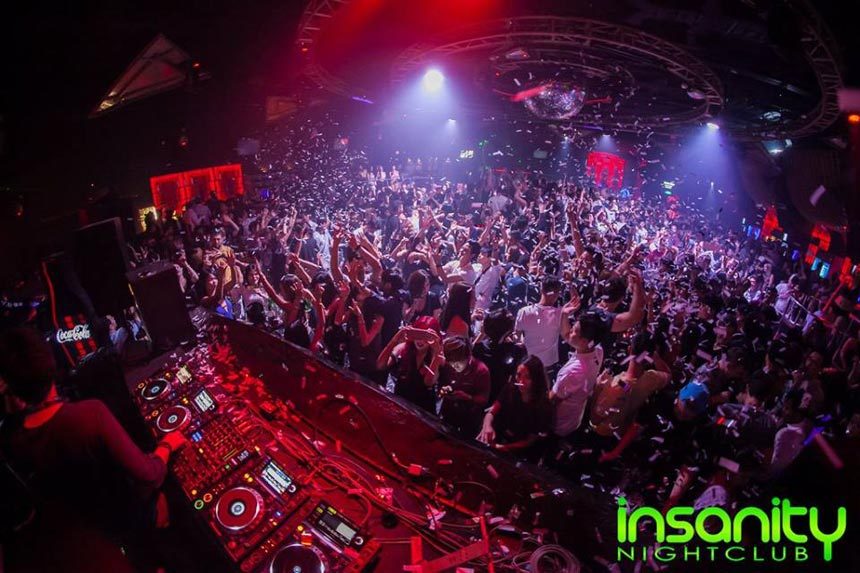 Image credit: Insanity
Cover Charge

• 300 THB ($9) on Sundays through Thursdays
• 500 THB ($15) on weekends and special events

Music

House, EDM, Hip-hop

Crowd

Locals, expats, and tourists

Opening Hours

Daily 21:00 – 06:00

Location

Sukhumvit
Highlights
Partying 'til daylight: First things first, why is it called "Insanity"? One of the most possible reasons is the fact that it is open 'til 6 in the morning. If you're crazy enough to keep your club open 'til that hour, you indeed have the right to name it "Insanity". Another reason could be the variety of wild promotions they have such as their 99-baht drinks during happy hour.
Great place to meet girls: It could also be the reputation it has earned as one of the best clubs in the city to meet girls. With a high girl to guy ratio, both locals and expats troop to this prime nightclub for a chance to meet the lady of their dreams – or of their night at the very least. It also helps a lot that Insanity employs some of the best dancers, which draw in customers like moth to a flame.
Euro-style clubbing in the city: If there were anything to distract you from the gyrating professional dancers, it would be the delirious laser light show moving to the rhythm of bass-heavy EDM and house music spun by Thai and international DJs. Adopted from Euro-class clubbing, DJs play from an elevated booth, so they can see who comes to play and who comes to party.
7. Sugar Club
For honest-to-goodness hip-hop clubbing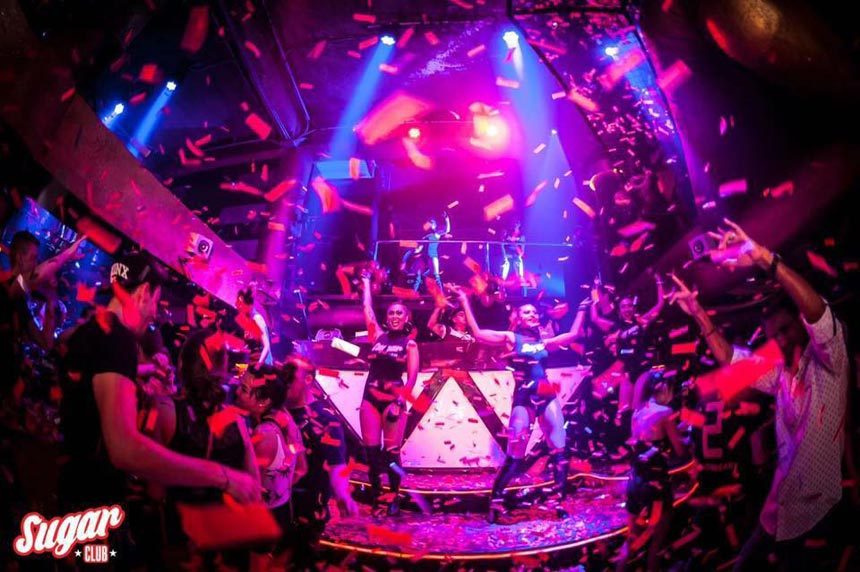 Image credit: Sugar
Cover Charge

• 200 THB ($6) for ladies
• 300 THB ($9) for gents

Music

Hip-hop

Crowd

College students, young professionals

Opening Hours

Daily from 21:00 'til wee hours

Location

Sukhumvit
Highlights
Best hip-hop nightclub in Bangkok: Sure, Bangkok has a dime a dozen EDM/house nightclubs and most of them are absolutely spectacular but you know what it doesn't have that many of? An honest-to-goodness hip-hop joint! That's exactly how the Sugar team came up with their club.
For partying 'till wee hours any day of the week: Sugar is open all seven days of the week, but the weekends are definitely extra special. It's when the club gets packed with hip-hop lovers of various ages and races. If you're new to the hip-hop scene and quite unsure what moves to bust, the resident dancers of Sugar will guide you through, and you won't ever have to feel lost in the sea of swag that is present every night.
Great value-for-money drink promos: Make sure to ask the bartender for their drink specials because they offer pretty awesome deals such as 5 drinks for a mere 500 THB. For big spenders, they have specials on Moet & Chandon, Ciroc, Gold Label, and Hendricks. Not a big fan of getting cramped with the crowd? Sugar has a few VIP rooms which are perfect for partying in privacy.
8. DEMO Nightclub
For hobnobbing with trendy locals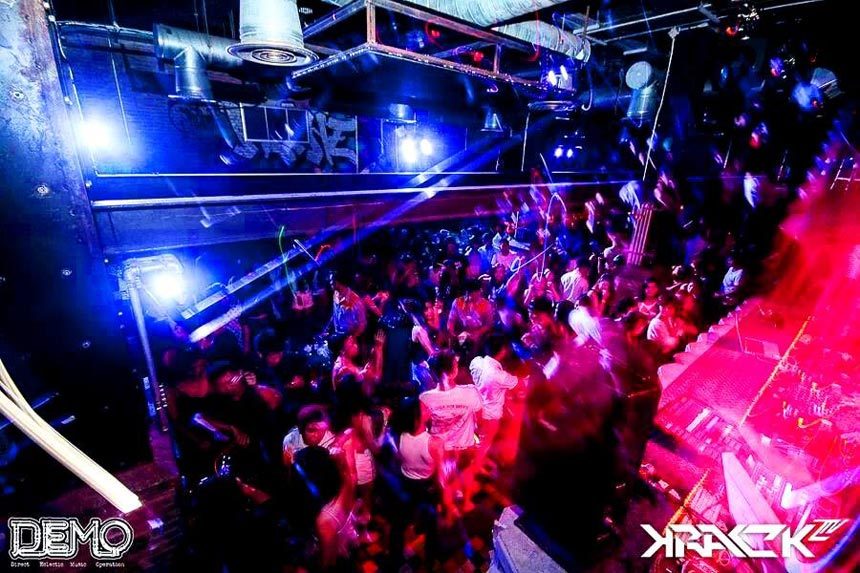 Image credit: Demo
Cover Charge

Free entry

Music

Hip-hop, EDM, House, Dubstep, Heartbeat

Crowd

Young and rich locals

Opening Hours

Tue to Sun 21:00 – 02:00

Location

Sukhumvit
Highlights
The rich kids' playground: Upon getting off the cab, what you will first notice is the gaggle of luxury cars parked outside Demo/Funky Villa – that serves as your first glimpse of the party scene at Demo. As it is located in the wealthy parts of the city, it is where you can party with affluent locals. Sounds intimidating? Not really. These kids know how to party, and don't mind spending a little bit more for a great night out.
Fashionable exteriors and interiors: Demo looks like a barren warehouse that is dressed up with graffiti and impressive lighting. While some take a great liking to it, others think it pales in comparison with other nightclubs in town. Once inside, however, you will be convinced that it is one of the rather stylish and trendy nightclubs you can see – and it is very well complemented by a fashionable party crowd.
Two party rooms for two types of partyphiles: Demo caters to two types of partyphiles – the hip-hop crowd and the house/EDM aficionados – by designating a separate room for each. There is another area – the outdoors – where clubbers can take a break from all the dancing and booming music.
9. Glow Club
For sexy, cutting edge house and techno music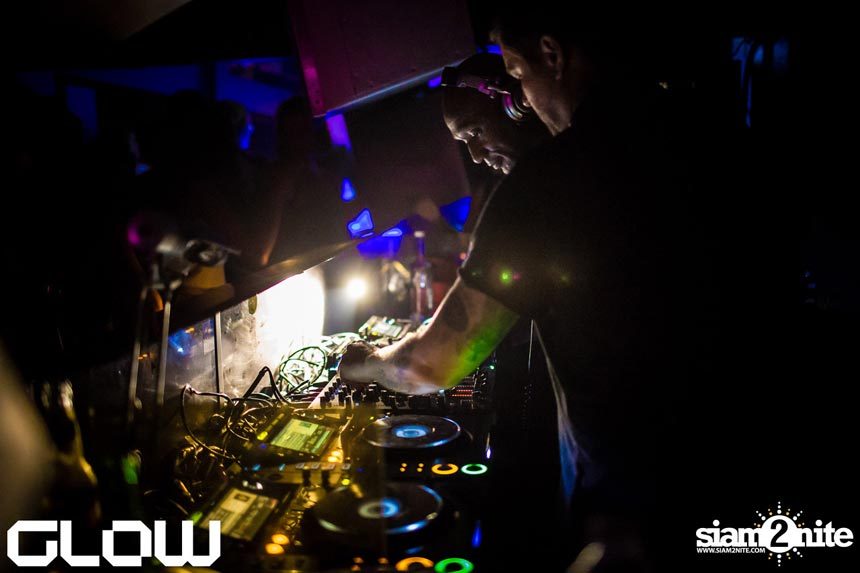 Image credit: Siam2nite
Cover Charge

300 THB ($9) to 500 THB ($15) on weekends

Music

House, Techno

Crowd

Mostly expats

Opening Hours

Wed to Sun: 21:00 - 03:30

Location

Sukhumvit
Highlights
Best club for underground house and techno music: Glow is significantly smaller compared with the super clubs that are found spread out all over the city. What it lacks in size, however, it more than makes up for in stylish decors, most creative lighting system, and most important of all, cutting edge house and techno music. This is one of those exceptionally few places that refuse to play mainstream music – yup, they actually have a strict policy to enforce this.
More than a decade of wild party reputation: Glow is meticulous about the music that blasts on its high end sound system, and that is the biggest reason it has been a big name in the party scene since it opened in 2005. If you want to understand the breadth of house and techno music, you should put Glow on your Bangkok nightlife itinerary. You're in for a treat if it happens to be an event night such as Underground Circus, Phatfunk and High Tech Soul.
Breakthrough international DJ's: The boutique nightclub has had the privilege of welcoming talented international DJs such as Wolf+Lamb, Manuel De La Mare, and Makoto – all breakthrough DJs in the house/techno genre.
10. NARZ Nightclub Bangkok
For a real wee hours party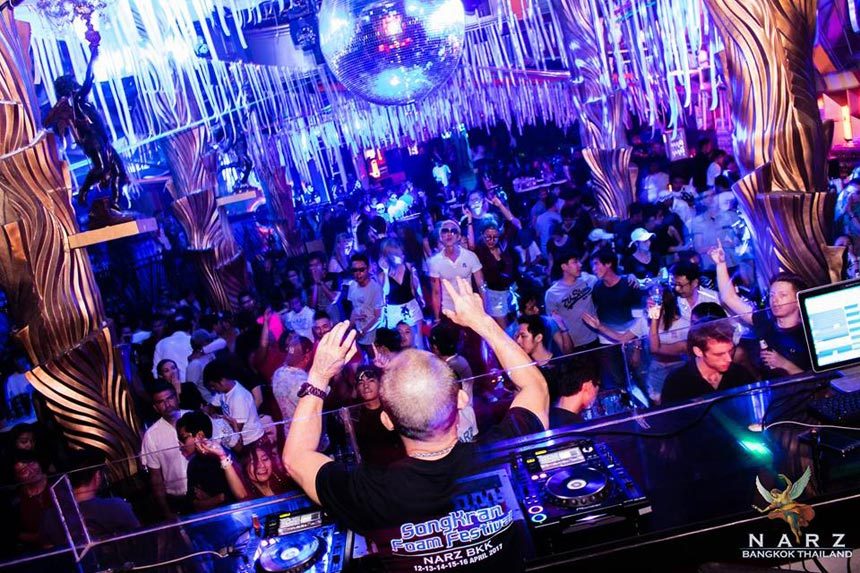 Image credit: NARZ
Cover Charge

• Free entry before 22:00
• From 400 baht thereafter

Music

Hip-hop, Trance, House, Techno

Crowd

College students, young professionals, tourists, expats

Opening Hours

Daily 20:00 – 06:00

Location

Sukhumvit
Highlights
Party mansion that is open 'til past sunrise: NARZ is a mansion with four floors, eight bars, an expansive outdoor area, and a pool – all dedicated to serving the party/clubbing needs of locals and foreigners 'til as late (or early?) as 6 the next morning.
Bangkok's party veterans: Having opened in 1992, NARZ has seen, survived, and taken part in the evolution of Bangkok's party scene. You can tell by the looks of it that NARZ is serious about giving Thais and Bangkok guests the party of their lives. If you still couldn't, then you'll be able to once you step foot on the premises and get a glimpse of its hip-hop room, and two EDM rooms. It also has the most impressive roster of local and international DJs, so any night you go is guaranteed to be an unforgettable one.
All the elements you need for a kicking party: In fact, once you're inside, you'll get the feeling that the NARZ team doesn't ever want you to leave with its mesmerizing lighting, super energetic DJs, and top shelf cocktails. Add to that the gorgeous stream of locals and foreigners making each night even more colorful.