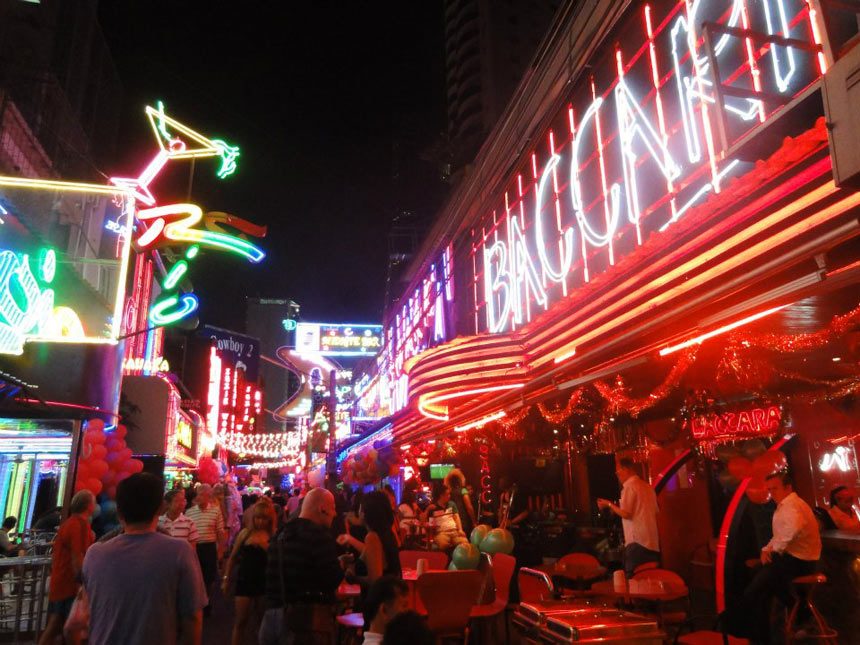 (Image: Baccara)
Bangkok is packed with tons of Go Go bars, filled with everything from bright and vibrant spots to dark and mysterious locations that are best avoided. The bars are scattered around 3 main 'red-light district areas' – Soi Cowboy, Nana Plaza and Patpong. As you enter inside, you can expect to witness dim lights, attractive girls dancing provocatively at every corner and buzzing music.
Generally, customers buy drinks for the go-go girls. If you are interested in a girl, make sure to inform the waitress to bring her over to you. If you want to take her out of the bar, you must pay a 'bar fine' that varies per venue (600 THB+). Most go-go bars do not accept credit cards, so always bring cash!
If your curious mind is begging for you to visit a go-go bar, read on below to discover the top 5 first-time friendly and popular go-go bars in Bangkok!
---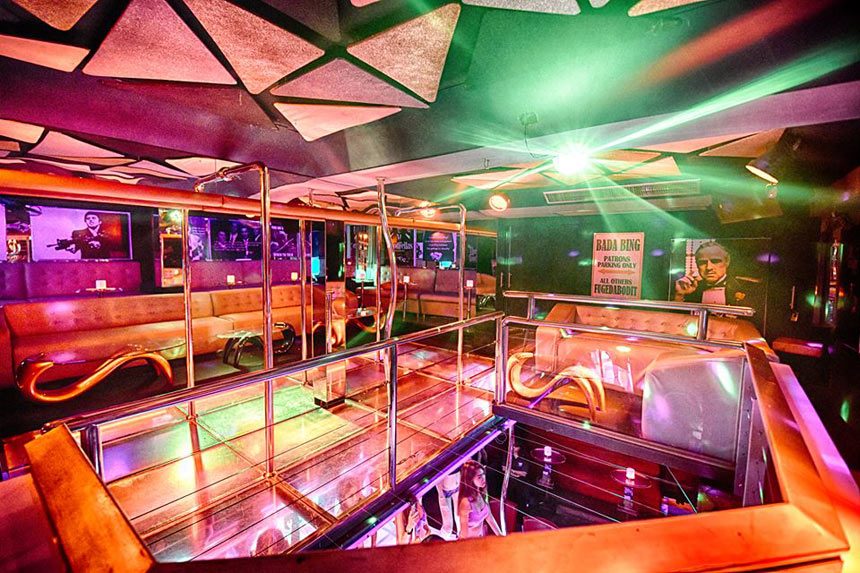 (Image: Bada Bing)
| | |
| --- | --- |
| Drink Prices | THB140 ($4) for a beer |
| Opening Hours | Daily 20:00 – 03:00 |
| Address | Patpong Soi 2, Bangkok |
Highlights
Comfortable, modern-style interior with tons of space: The layout of Bada Bing is just marvelous! Set over two floors, Bada Bing comes fully equipped with a large stage, VIP room with glass ceilings, and plush seating areas. Sit around the cushioned sofas lining the walls, or head upstairs to the VIP room for an exclusive night with your group.
Laid-back ambience, with prompt service: Whether you are new to the game, or are a regular, expect to be treated like royalty. The staff and girls are incredibly easy-going and friendly, ensuring that you receive the best customer service to enjoy your night to the fullest. Kick back, relax, and enjoy the show!
Themed nights for an exciting twist: Bada Bing features themed shows on different nights to entice you to come back! Whether it is a Burlesque night or doctor and nurse roleplay night, there is always something thrilling happening at this spot.
---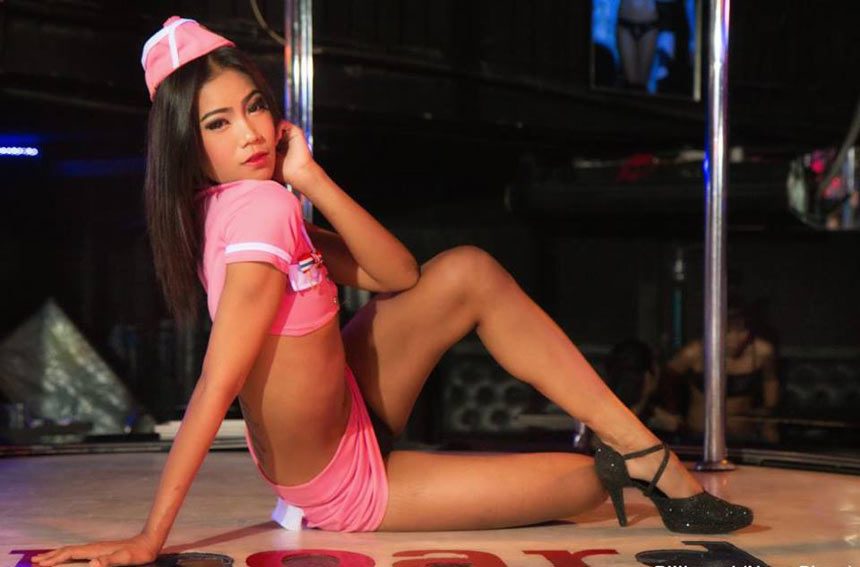 (Image: Billboard)
| | |
| --- | --- |
| Drink Prices | THB180 ($5) for a beer |
| Opening Hours | Daily 19:00 – 02:00 |
| Address | 3rd Floor, Nana Plaza, Sukhumvit Soi 4, Bangkok |
Highlights
Retro-style ambience featuring an indoor Jacuzzi: Whether you would like to relax next to the girls at the Jacuzzi, or show off some moves with the girls on the rotating dance floor, billboard allows you to have it all! The ambience is less intimidating than usual go-go bars, where being casual is encouraged!
Choreographed dance shows on the hour: You will always get to see some action on stage, where the shows are a comfortable mix of provocative and basic scenarios and dances to suit everyone's taste. Regardless, the shows are well-performed and rehearsed, featuring intricate clothing and choreography for a real eye-opener!
---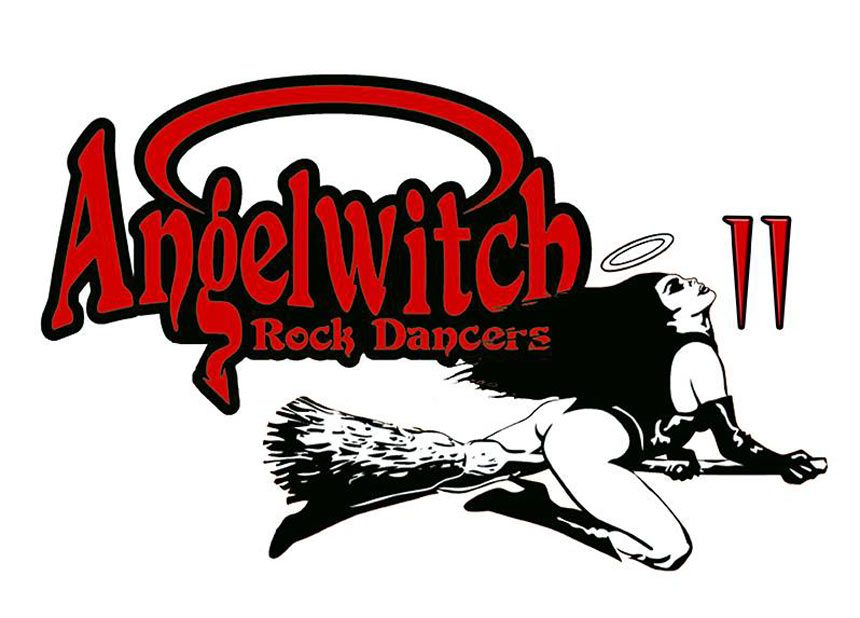 (Image: Angelwitch)
| | |
| --- | --- |
| Drink Prices | Beer at THB150 ($4.30) |
| Opening Hours | Daily from 20:00 to 02:00 |
| Address | Left side of Nana Plaza, Sukhumvit Soi 4, Bangkok |
| Phone | +66 92 452 4583 |
Highlights
Top-notch entertainment every hour: If you are looking for some of the most raunchy shows in Bangkok, Angelwitch is the go go bar for you! Every hour for 15 minutes, you can expect 1-5 go go girls to hit the stage for a choreographed performance, often ending in total nudity!

Also featured as part of their performance is an oil massage show, and a lap dance show. Amongst the favorite shows is the Thai dance, with high tempo moves and a complete traditional headdress.
Well-known spot with multiple venues: Since the success of the first Angelwitch bar, two new ones have recently opened to keep up with the growing go go scene in Bangkok! With expanding venues and a great reputation, Angelwitch a strong competitor in the go-go industry.
Center-based layout with sleek décor and red intimate interiors: Sit down around the center dance stages, where you will find comfortable burgundy leather couches lining the walls. To complete the sophisticated ambience, polished black marble covers the floors, matching the leather outfits of the go go girls.
---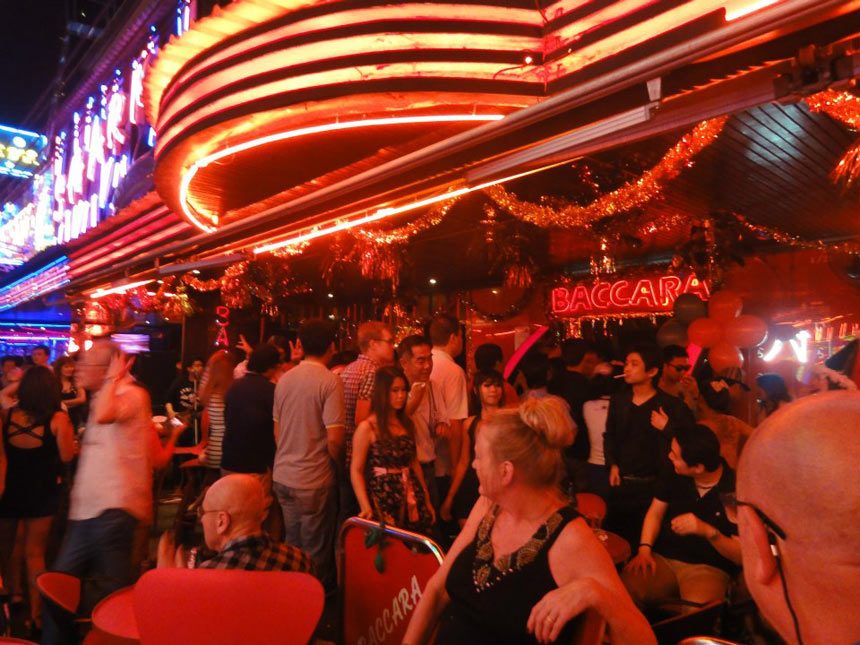 (Image: Baccara)
| | |
| --- | --- |
| Drink Prices | Beers start at THB180 ($5.20) |
| Opening Hours | Daily from 17:00 to 03:00 |
| Address | Soi Cowboy, 23 Sukhumvit Rd, Bangkok |
| Phone | +66 2 258 4332 |
Highlights
Three floors of fun and raunchy dancing: Featuring two gigantic stories, Baccara is constantly packed with customers, dressed up go-go girls and busy bartenders. Relax downstairs and dive into the plush couches surrounding the central stage, and peep upstairs through the glass ceiling at the go-go girls dressed up in tiny schoolgirl skirts, shaking it to the beat of the music.

Feeling like a bit of fresh air? Head out to the outdoor patio to observe the scene across the street. After the night hits, Soi Cowboy overflows with dozens of go-go dancers, filling the bars and getting ready for their shows.
Intimate and stylish setting for an eclectic night out: This fascinating spot is super edgy, with a spotless transparent dancefloor, lit up neon lights, stunning couch areas and metallic disco balls to set the mood. Enjoy the electrifying ambience as you choose your favorite go-go girl to accompany you at the bar.
---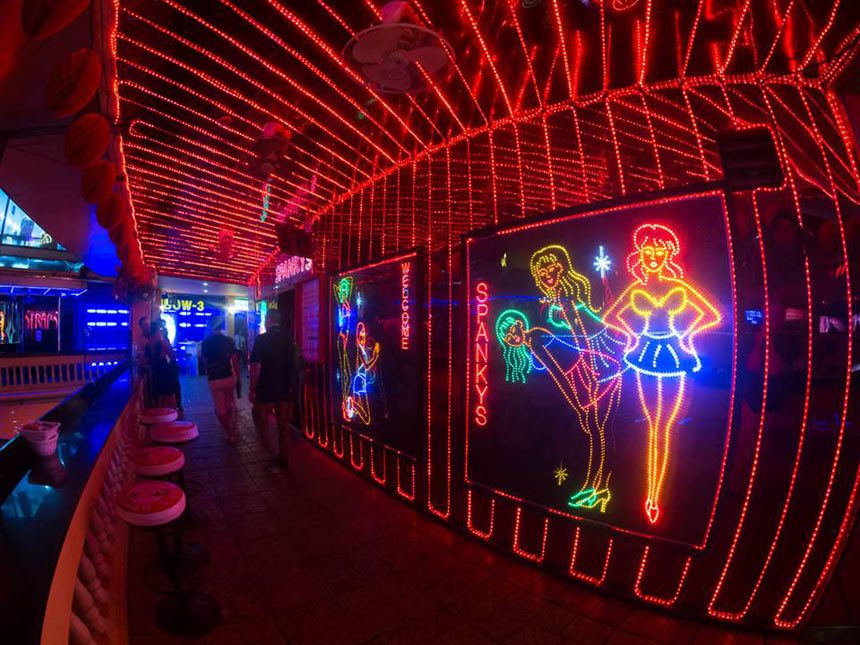 (Image: Spanky's)
| | |
| --- | --- |
| Drink Prices | Beers at THB155 ($4.50) |
| Opening Hours | Daily 19:30 to 02:00 |
| Address | Nana Plaza Second Floor, 4 Sukhumvit Rd, Bangkok |
| Phone | +66 88 888 8888 |
Highlights
Laidback and friendly attitude with a local feel: For a cozier, local experience, make sure to visit Spanky's at your next night out. As its clientele is mostly regulars, it creates an authentic vibe to the venue. However, it is still very tourist-friendly. Enjoy the exceptional customer service, with super easygoing staff and friendly go-go girls.
Medium-sized venue for a warm and intimate night: Although Spanky's does not boast gigantic venue space, it is still comfortable enough on a weekday to visit without bumping into other customers with every step. The dancefloor holds up to 20 dancers, with cozy benches surrounding the floor to ensure you have an optimum view from every angle.
Professional high-quality erotic shows: Spanky's go-go girls are not new to the game! These highly experienced girls will dazzle you with choreographed shows lasting 15 minutes, featuring some of the most erotic striptease performances, and a shower booth for an added touch.