Baccara
Bangkok Travel Guide

/

May 21, 2017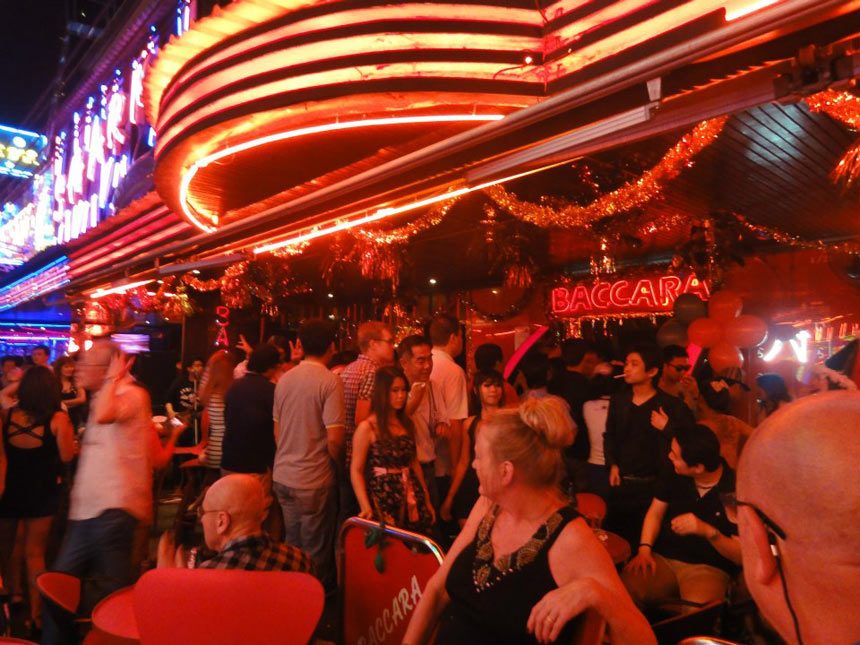 Image credit: Baccara
Drink Prices

Beers start at THB180 ($5.20)

Opening Hours

Daily from 17:00 to 03:00

Address

Soi Cowboy, 23 Sukhumvit Rd, Bangkok

Phone

+66 2 258 4332
By far one of the most popular go go bars in Bangkok, Baccara is well-recognized amongst all clientele. Situated at the end of Soi Cowboy, this venue is the ultimate spot for the wildest night out.
Highlights
Three floors of fun and raunchy dancing: Featuring two gigantic stories, Baccara is constantly packed with customers, dressed up go-go girls and busy bartenders. Relax downstairs and dive into the plush couches surrounding the central stage, and peep upstairs through the glass ceiling at the go-go girls dressed up in tiny schoolgirl skirts, shaking it to the beat of the music.

Feeling like a bit of fresh air? Head out to the outdoor patio to observe the scene across the street. After the night hits, Soi Cowboy overflows with dozens of go-go dancers, filling the bars and getting ready for their shows.
Intimate and stylish setting for an eclectic night out: This fascinating spot is super edgy, with a spotless transparent dancefloor, lit up neon lights, stunning couch areas and metallic disco balls to set the mood. Enjoy the electrifying ambience as you choose your favorite go-go girl to accompany you at the bar.
DRINK PRICES
Beers start at THB180 ($5.20), compulsory 2 x 200 THB lady drink.
BAR FINE
THB600 (if you are taking a girl out)
5 Best Go Go Bars for Some Naughty Time in Bangkok