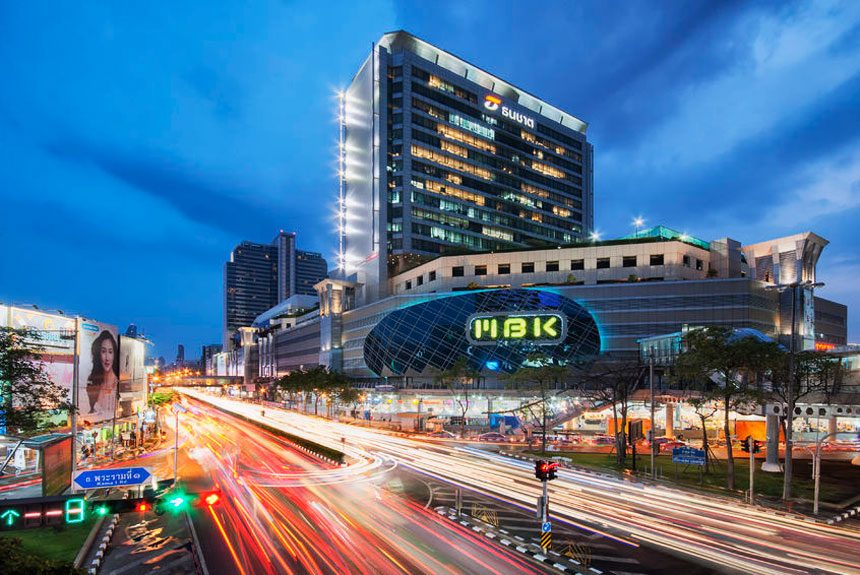 (Image: tapanuth)
Things to buy in Bangkok are countless in variety and endless in quantity. It is possible for any of us to get an item that captures our hearts as Bangkok is a sophisticated businessman. The city offers many wallet-friendly shopping hubs with character for us to find our right place.
Cheap shopping in Bangkok could be experienced in both shopping malls and markets. Each of these places surprises shoppers with the amazingly large number of stores, ranging from 500 to 8000.

Golden rule to get the best buys in Bangkok is bargain hard. This rule can definitely be used at any markets. It also works at malls like Pan Tip Plaza and Platinum Fashion Mall where wholesale is the focus.
In this article, you will find Bangkok's 10 best budget shopping places, complete with reasons that make them stand out from others.
---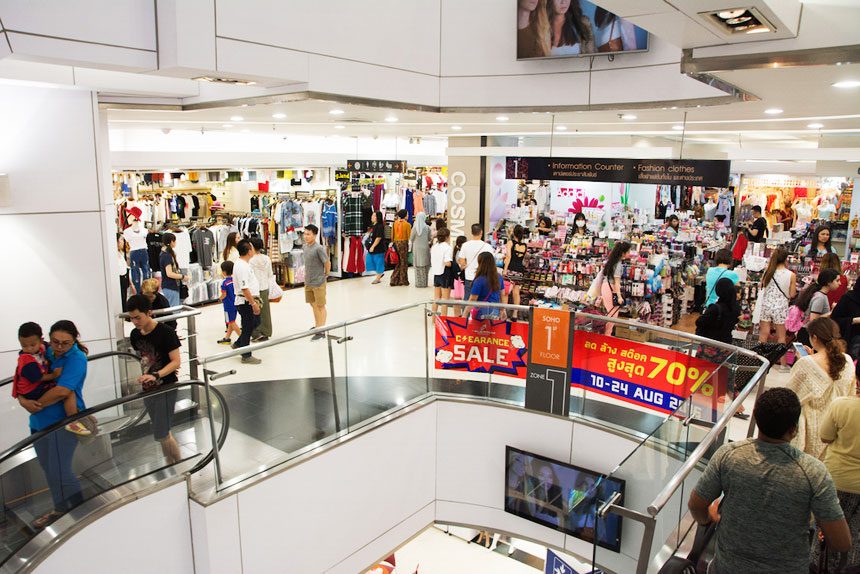 Highlights
Go-to shopping mall for wholesale clothes and accessories: Almost everything fashion available here for fashion lovers to be beautiful from head to toe – hats, clothes, handbags, belts, shoes and cosmetics. There are things for every body – children, adolescents, ladies, men and elderly. And stuff for every occasion – workwear, evening wear, swimwear, sport, and costume.
Fashion clothes with an impressive range of styles: Fashion clothes here come from various fashion hubs of Asia like Korea, Japan, Hong Kong and China and therefore the range of styles is wonderful. You can find here items that keep you on trend as well as stuff that makes you live on the edge.
Street shopping inside a mall: The Platinum Fashion Mall is often compared to the Chatuchak Weekend Market, except that shopping is done indoors. Unlike a typical mall, Platinum is where price tags aren't fixed. So the fun of street shopping is experienced within the confines of an air conditioned space.
---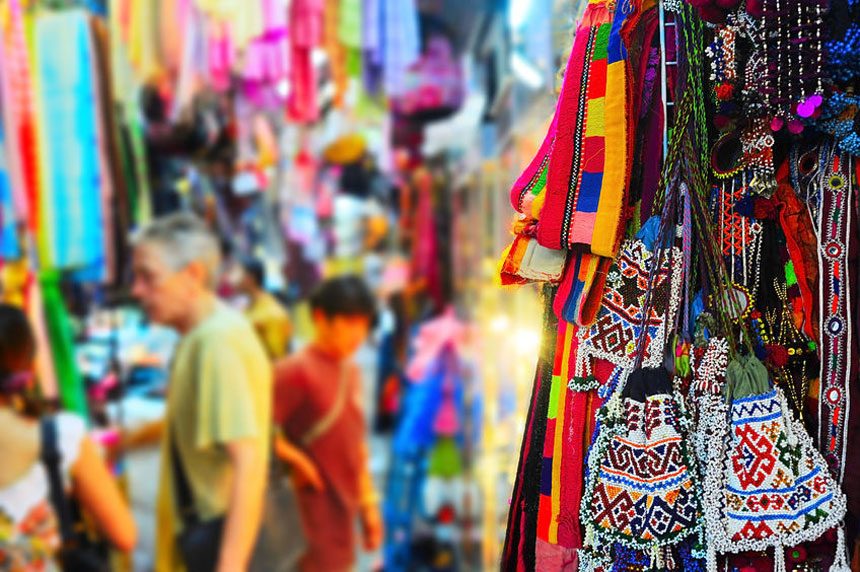 (Image: tykhyi )
Highlights
One of the largest markets in the world: Its land size is huge, covering an area of 35 acres. The number of stall is vast with 8000 stalls. The place brims over products of all kinds as a result. While Chatuchak covers everything you can ever imagine, unique sections worth checking out are rare to find antiques, ceramics, home furniture, and souvenirs.
Best place to buy Thai handicrafts in Bangkok: Get some beautiful handicrafts while touring Chatuchak market if you plan to bring home something truly Thai. The product range is huge; the quality is high; the prices are competitive among shops. These are simply the reasons.
A street food paradise: Local and traveler food enthusiasts would agree that Chatuchak market is one of the best places to enjoy street food in Bangkok. You can find all delicious favorites from its 500 food stalls. Fried chicken, crispy pancakes, fish cake and Thai coconut ice cream are just heavenly.
---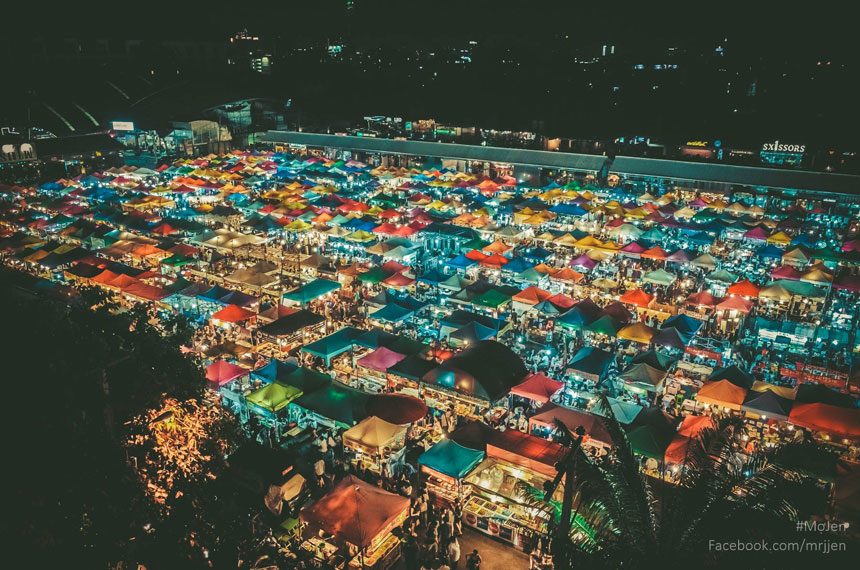 (Image: Jen Nguyen)
Highlights
A shopping paradise for fans of vintage stuff: If you are into things in vintage style, then you will find your place at the Warehouse Zone and Rod's Antiques areas. Products are impressive in variety and quantity. And shoppers can get more inspiration for their love from many fellow vintage stuff lovers and hunters there.
Genuine vintage and antique items available: Collectors can rest assure that items showcased at Rod's Antiques section like French chandeliers, classic cars, motorbikes, cameras and kitsch furniture are all real things. Some comes from Thailand while others made their long way from all over the world (American, Europe, China and Myanmar) to shine their beauty at the market.
Dazzling dining options for a satisfying night out: Street food stalls, bars and restaurants fill up the market like trees. People of all age groups come here to shop, marvel at uniquely stunning things and enjoy tasty food and drink. Street food like satay, crispy pancakes and coconut ice cream from food stalls and cocktails or beers from bars and restaurant will perfectly complete your night out here.
---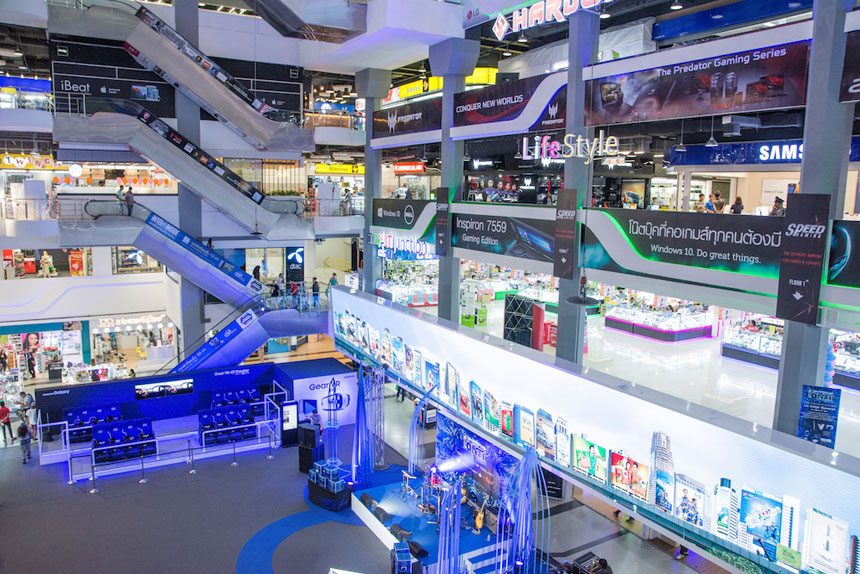 Highlights
One-stop-shop for electronics: Its hundreds of shops make up a massive place for electronics of all kinds. From computer hardware and software to tech-related gadgets. You name it, Pantip Plaza has it.
Best place to buy computers in Thailand: It is simply because many of large computer shops in this building have their main focus on wholesaling computer and its equipment from popular brands. So buyers have many options to choose from and can get things at competitive and wholesale prices.
---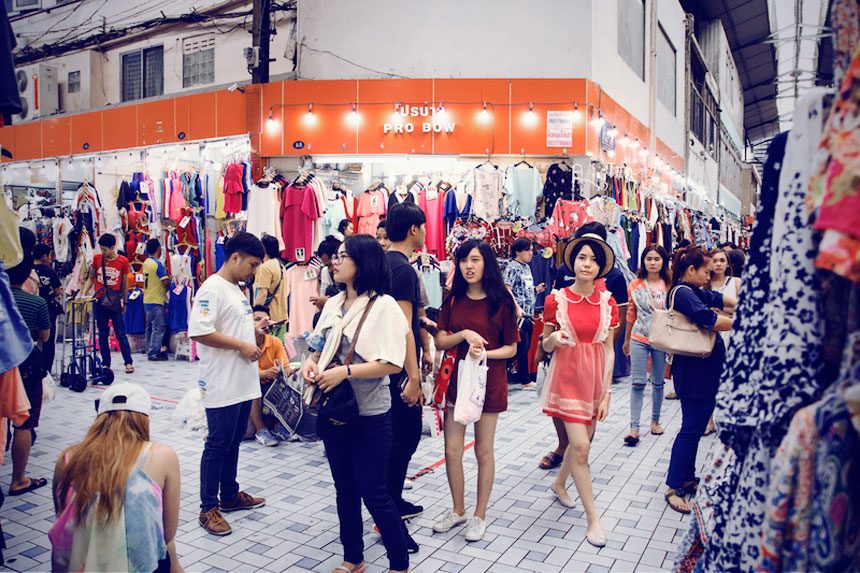 Highlights
Best place to shop bulk orders of clothes in Bangkok: Pratunam district is all about clothing, and Pratunam Market, along with Platinum Fashion Mall, is the best place to shop for this kind of products in the area. Huge variety is available in around 4,000 stores at rock bottom prices.
Both casual and fancy dresses available: One can find modern style everyday wear at stores closers to Baiyoke Tower I and fancy dresses for special occasions at shops closer to Petchaburi Road.
---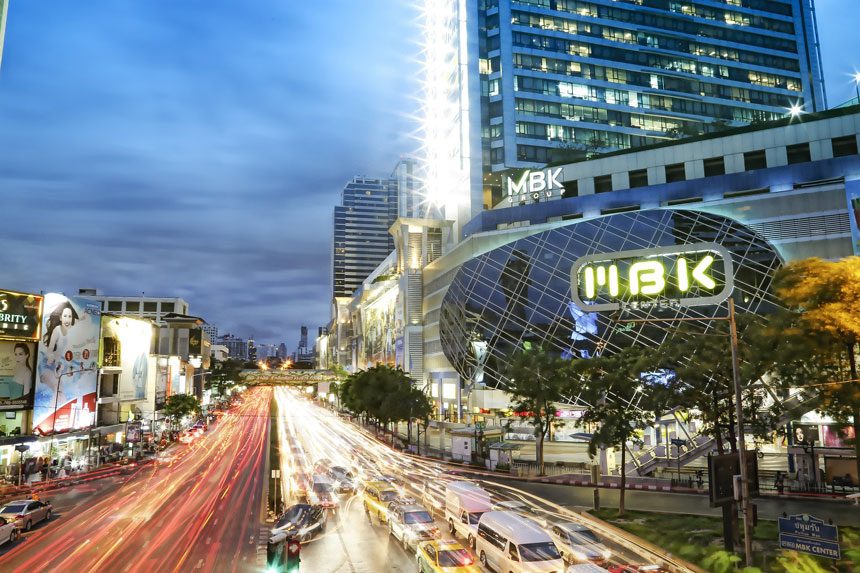 Highlights
A place to find great deals on mobile phones: There is a huge selection of new and used mobile phones and accessories on offer. Head to level 4 to select from plenty of privately owned shops.
Affordable fashion clothes of Thai brands and designs: Just like any other shopping malls in Thailand, MBK is a place to shop for fashion items. Shop here if you are after Thai brands and designs. Don't miss out on the discounted stuff offering at an open space section on the ground floor.
Quality imitations of big fashion brands: Your $25-$50 budget can get you to buy a Chanel-alike handbag! Yes, a counterfeit product but of good quality. Get similar things here if you don't mind their origin.
---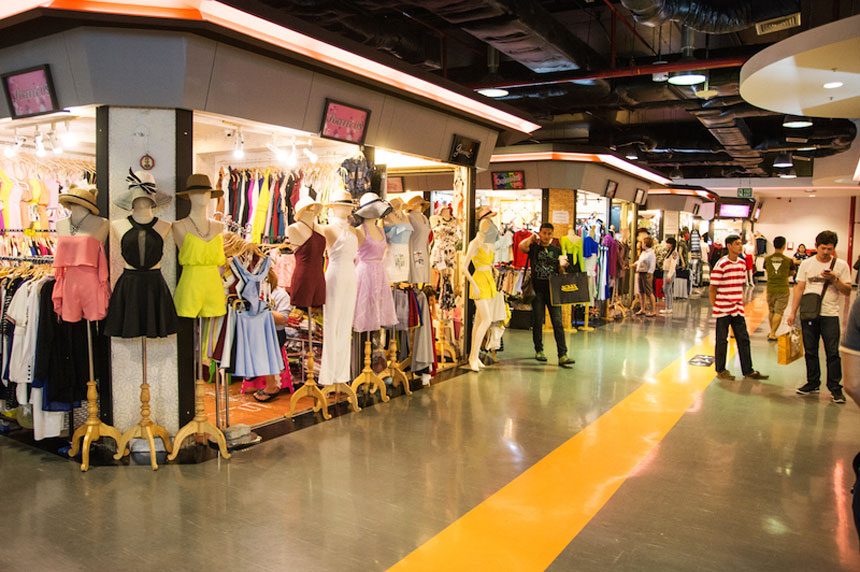 Highlights
Great alternative to tourist malls and street markets: Sometimes the crowds in other budget shopping spots are just unbearable so that young locals go to Union Mall alternatively. This mall has spacious walkways filled with shops from end-to-end.
Unique boutique stores with high quality products: Among the mall's 1000 retail shops, there are many boutique stores selling unique and trendy apparels by young local designers. You won't find the same items elsewhere.
Another place to shop for Korean and Japanese fashion: Whether you're into Jpop or Kpop, Union Mall fortunately has a great range of these fashion styles to fit your needs. All designs look trendy and stylish perfect for the young crowd.
---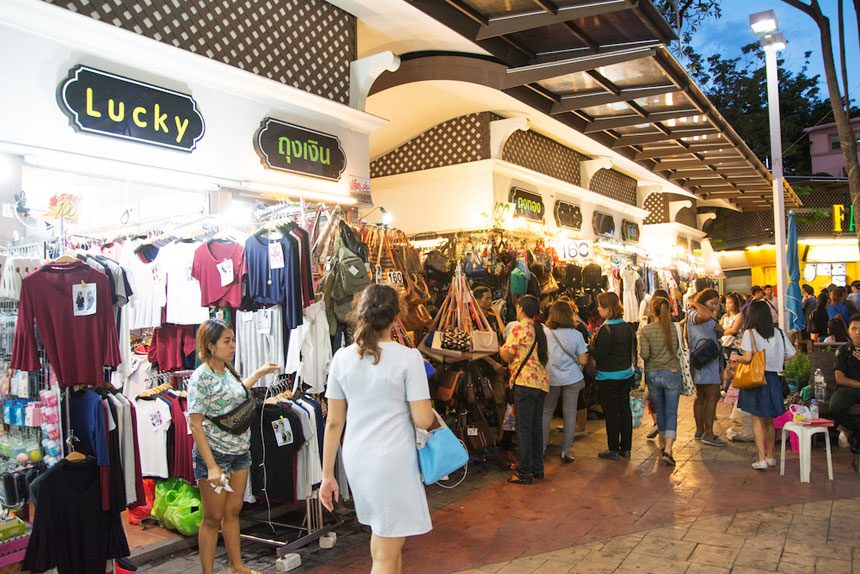 Highlights
Lots of shopping places at one area: Victory Monument is a good choice for budget shopping in Bangkok because it offers shoppers many shopping options – in malls, in street market and in small stores along road alleys. Century the Movie Plaza, Victory Point and Ratchathewi Soi 3 to 9 are places to find the best bargains in this shopping area.
Boat noodles in Victory Monument is a must try: Don't miss out on one of the best dishes Thailand has to offer while shopping in this area. There is a boat noodles alley along the canal with many different stalls selling the dish. They all serve this delicious eat in small sized bowls at the price of around 10 bath.
---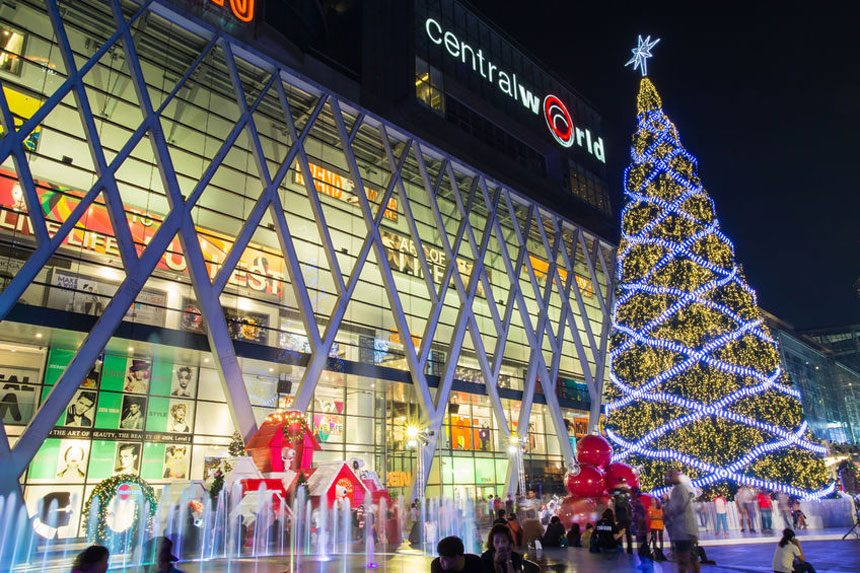 (Image: hatchapong )
Highlights
Largest shopping center in Thailand: Central World is the third largest in Asia and sixth in the world. With more than 500 stores, 100 restaurants and cafes, this 7-floor complex is a place you wouldn't want to miss if you are to go shopping in Bangkok.
Products of the same categories are conveniently placed on the same floor to make our shopping easier. You can find international brand fashion shops like Topshop, Zara and Adidas from level 1 to level 3; electronics on level 4; home furnishings on level 5; children's shops on level 6; cinema and restaurants one level 7.
An exciting entertainment centre: Young urbanites and families frequent this mega-shopping complex to enjoy the entertainment facilities galore. Kids' zone and learning centre for kids, Ice skating rink for the young, beauty salons for ladies, bookstores for book lovers, and cinema, foodcourt and a wide range of restaurants for everybody.
---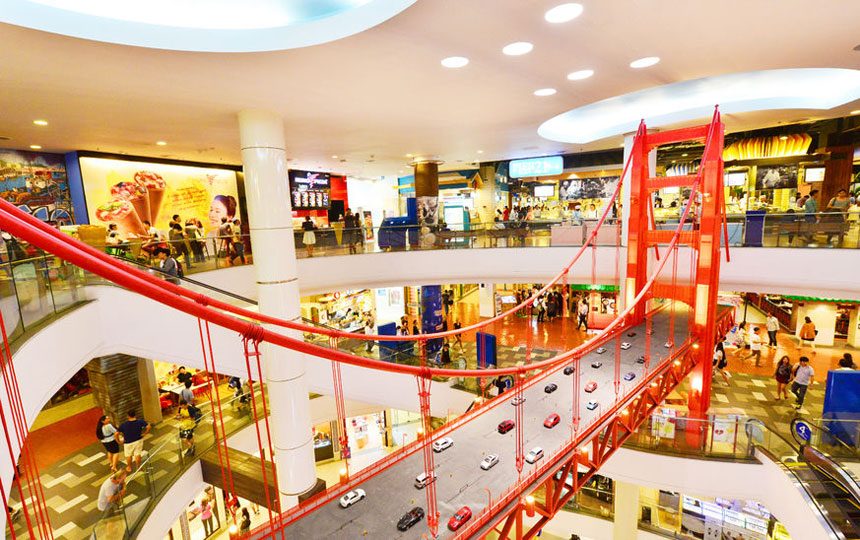 (Image: john6863373 )
Highlights
Shopping with the world's various city themes: Giving each floor a city theme makes shopping here an exciting experience. You may feel like being in Tokyo while looking for a dress you will love on level 1. Enjoy baby back ribs at Tony Roma's restaurant on level 4 and see yourself dining in San Francisco.
A place for high quality clothes: Terminal 21 centers its business on fashion clothes of international and local brands. This place steals fashion lovers' hearts by featuring many stalls with beautiful and affordable Thai designer brands.
Home to one of the best food courts in town: Foodies praise it the best because its massive food court showcases a delicious selection of local favorites. Phad thai and roasted duck noodles are a must have among them. Those want to taste something international can have satisfying meals at the mall's various restaurants like Pepper Lunch, The Canton House, Tohkai Yakiniku, and Swensen's.