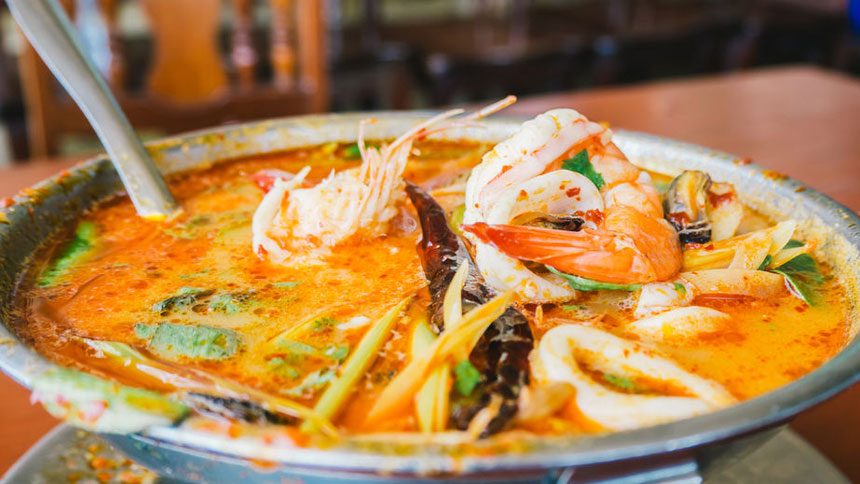 (Image: sevendeman )
Tom yum goong is one of Thailand's popular soup dishes, well-loved for its sour-spicy broth and curative properties.
The intense flavor comes from a mixture of chilis, lemongrass, kaffir lime leaves, galangal root, and tamarind paste. Plump, juicy prawns are the real star of this dish, swimming seductively in all these wonderful flavors.
A bowl of tom yum goong is easy to get in Bangkok, with most food stalls offering a warm bowl any time of the day. Prepare to get your taste buds tickled as the spice factor of tom yum goong is not for the faint of heart.
Here are the best places to have tom yum goong in Bangkok:
P'AOR | Petchaburi
For a big, steaming bowl of seafood tom yum goong
What to order: Lobster tom yum, Crab sauce rice, Shrimp popia
Price range: 50 to 699 baht ($1.44 to $20.17)
When: 10:00 – 22:00 (Daily except Monday)
Where: 68/51 Soi Petchaburi 5, Petchaburi Road, Bangkok
T&K SEAFOOD | Yaowarat
For succulent, freshly caught seafood
What to order: Tom yum goong, Sizzling oyster omelette, Prawns marinated in fish sauce
Price range: 150 to 600 baht ($4.33 to $17.31)
When: 16:30 – 02:00
Where: 49-51 Soi Phadung Dao, Yaowarat Road, Bangkok
MIT KO YUAN | Phra Nakhon
For rich and creamy tom yum goong
What to order: Tom yum goong, Hoy lawd pad cha, Yawd mara
Price range: 50 baht to 100 baht ($1.44 to $2.88)
When: 11:00 – 14:00, 16:00 – 22:00 (Daily)
Where: 186 Thanon Dinso, Phra Nakhon, Bangkok