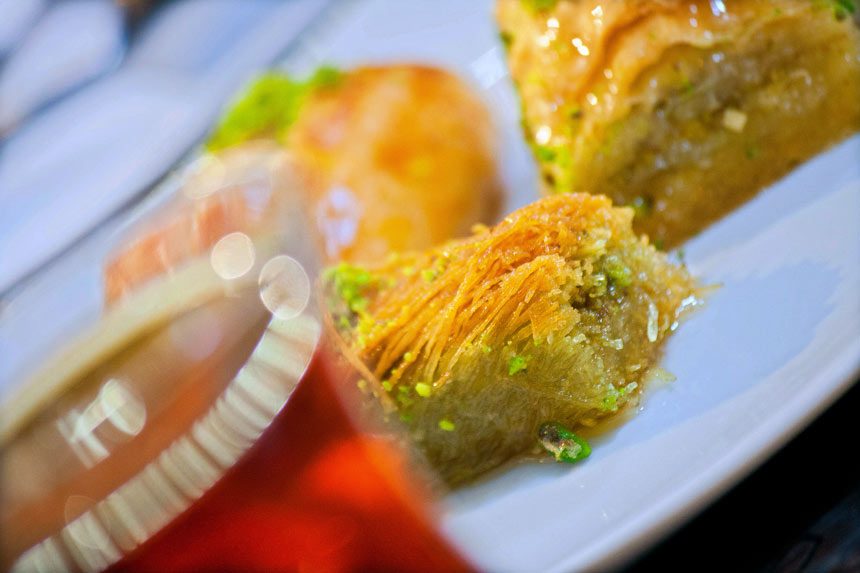 (Image: David White)
Baklava is Turkey's most popular dessert, bearing historical significance which goes as far back as the 8th century. Several countries claim to be the birthplace of this sweet dessert, but no historical account seems reliable enough to be taken as fact. One well-embraced fact, however, is that baklava is a definite must whenever in Istanbul.
It is believed that in the ancient times, baklava was fit only for royalty due to its richness and complexity. Fortunately, in the 21th century, baklava can be found in every corner of Istanbul – even outside of Middle East. It is layers upon layers of flaky filo dough bound by rosewater syrup or honey, and filled with ground nuts in the middle.
Here are the best places to have baklava in Istanbul:
GAZIANTEPLI BAKLAVACI BILGEOGLU | Kadikoy
For heavenly baklava made with clarified butter
What to order: Pistachio baklava, Walnut baklava, Mebrube
Price range: 30 to 70 TRY ($8.56 to $19.97)
When: 08:00 – 21:00 Daily
Where: Caferaga Mahallesi, Nailbey Sokak, No. 1/B, Kadikoy, Istanbul
KOSKEROGLU | Kadikoy
For the most exceptional pistachio baklava
What to order: Kadayif, Baklava, Durum
Price range: 32 to 130 TRY ($9.13 to $37.08)
When: 07:00 – 24:00 Daily
Where: Kemankes Karamustafa Pasa Mahallesi, Mumhane Caddesi, No. 2/D, Beyoglu, Istanbul
HAFIZ MUSTAFA | Fatih
For baklava to write home about
What to order: Pistachio baklava, Walnut baklava, Kunefe
Price range: 9.50 to 16.50 TRY ($2.71 to $4.71)
When: 06:30 – 22:00 Daily
Where: Hobyar Mahallesi, Hamidiye, Caddesi, No. 84, Fatih, Istanbul