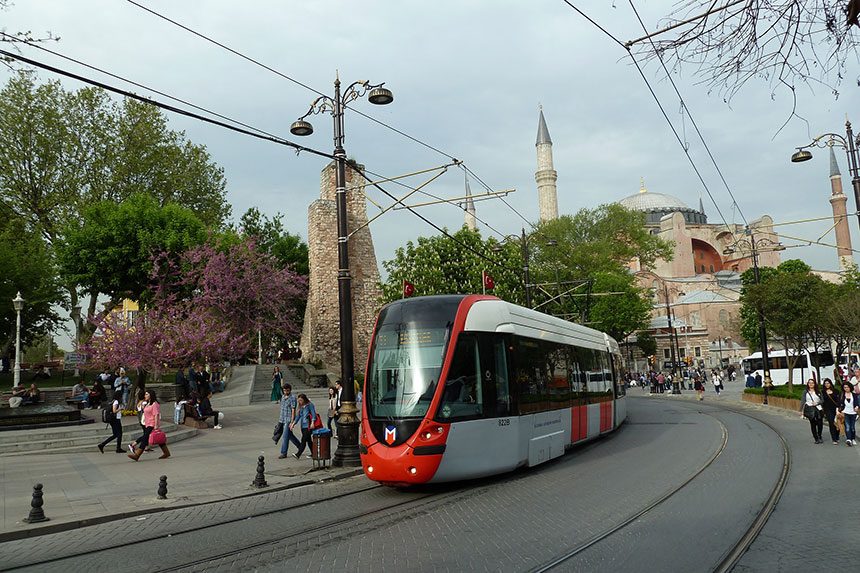 (Image: Michel Huhardeaux/Flickr)
Istanbul has three tram lines. Among them, the T1 and T4 are the complete opposite of one another.
The T1 Kabataş-Bağcılar tram line runs through the New City and can get you to the Atatürk airport, Sultanahmet Square and even to Taksim Square through a station near the area.
The T4 Mescid-i Selam-Topkapı tram line runs through all the major tourist attractions in the Old City and gives you the opportunity to see the famous Chora Museum (alight at Edirnekapi station).
You can also get nostalgic and get the feel of the old times by riding on one of Istanbul's Nostalgic Tramways, which consists of the T2 line (on the European side) and the T3 line (on the Asian side).
The Nostalgic Trams' frequency is every 15 to 20 minutes.
Taking a tram in Istanbul is a great way to see the city's top attractions while not having to worry about the taximeter.
Service hours: 06:00 – 00:00 daily
Service schedule: Intervals are 2-3 minutes during rush hours for T1 Line; 5 minutes during rush hours for T4 Line; and 7-15 minutes during off-rush hours for both lines.