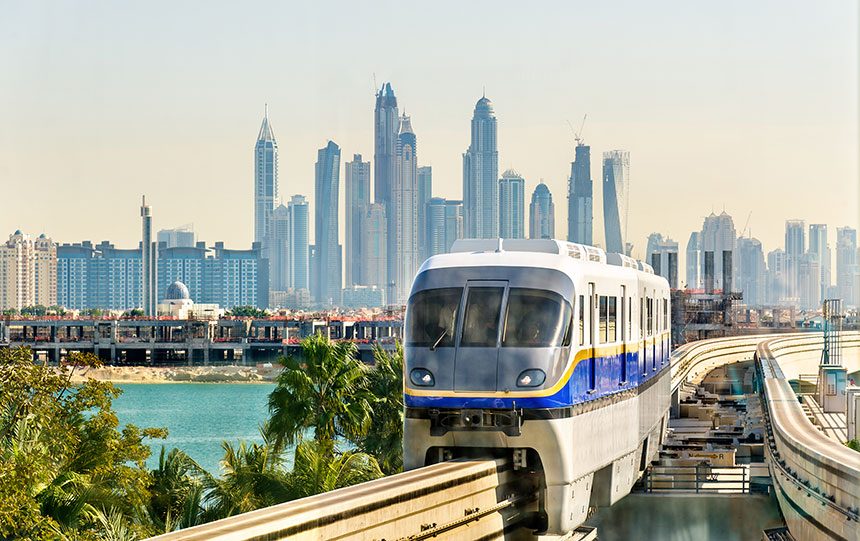 (Image: elec)
In Dubai, the city of extravagance and luxury, the affluent residents prefer traveling by car to using any other means of transportation.
It is simply because luxury is a way of life in Dubai. There is no blame for poor quality or service on the public transport system.
In fact, Dubai boasts a transit system that is convenient, comfortable, and safe. You'll find there a range of vehicles to get around in "the city of gold".
This guide will help you travel around Dubai like a pro even if you are going to set your foot there for the first time.

See also: Best Ways to Get from Dubai International Airport to City

Before You Get Started in Dubai
It is necessary for travelers to buy a NOL card for traveling in Dubai because cash payment is not acceptable in metro, buses, and water buses.
NOL Card is a kind of prepaid smart cards introduced by the Roads and Transport Authority (RTA).
There are 4 types of cards designed to meet different needs of residents and visitors. Among them, the Silver Card and Red Ticket are the most suitable options for visitors.
The Silver Card can be purchased at the price of AED 25 ($6.81). This card allows you to enjoy the rides on all modes of transport.
The Red Ticket is available at any ticket vending machine at a very cheap price – AED 2 ($0.54). However, this paper-based card only allows ticket holders to ride a mode of transport at a time. This means that you have to buy different Red Tickets to use on Dubai different vehicles.
If you plan to travel extensively on a particular day, your best bet will be a Red Ticket day pass, which gives you unlimited rides in all zones at only AED 20 ($5.45).
---
1. Dubai Taxis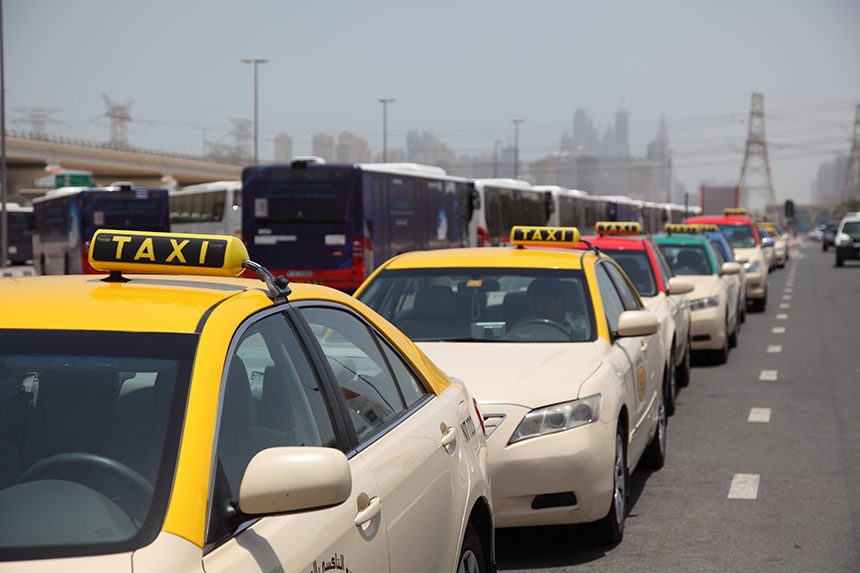 (Image: philipus)
A good news for all Dubai visitors-to-be is that taxi fares in this luxury city are very affordable. And you don't have to bargain with the drivers because they always use the taxi meters.
Dubai taxis have tan bodies and color roofs (red/yellow/blue/green/pink) and you'll see plenty of them plying the streets. The pink-colored cabs have female drivers and allow family and female passengers only.
You can easily catch a taxi in front of hotels and malls.
Taxi fares: AED 1.75/km (USD0.48). The required minimum amount of taxi fare is AED 12 (USD3.27). The fare for a short 10km trip will be no more than AED 17.5 (USD4.76).
Taxi hours: 24 hours
Note: If you want to save cost, then stay away from the hotel taxis and limousines. They can be expensive because they are not regulated by official rates.
---
2. Dubai Metro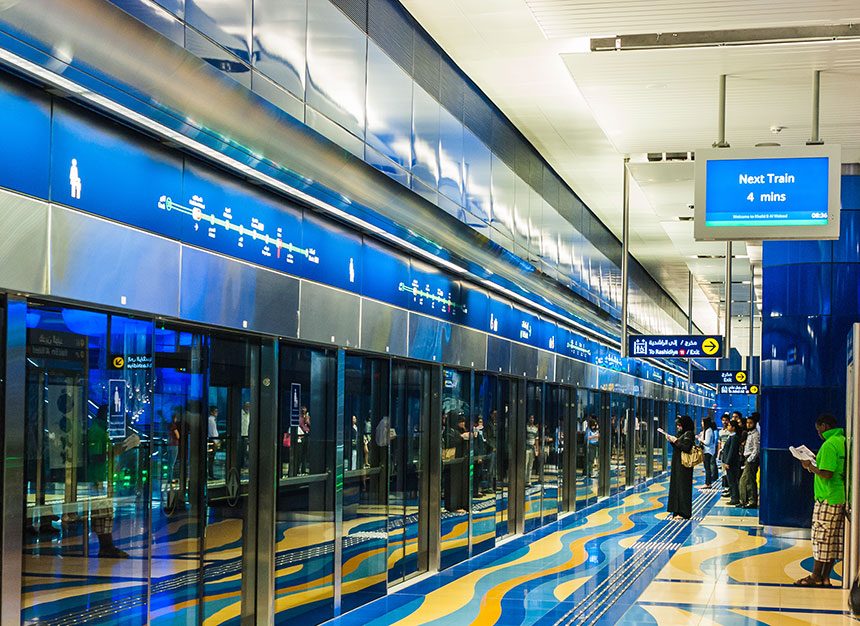 (Image: alan64)
Metro is a good option for travelers to get around in the city – the train is new and clean; the fare is affordable; the intervals are short; and station covering is extensive enough.
The Red Line runs from Rashidiya Station to Jebel Ali in the south of the city, coming across 28 stations in between.
The Green Line runs back and forth between Al Qusais and Al Jaddaf, stopping at 18 stations along its route.
Metro fares: Range from AED 4 ($1.09) (for one zone) to AED 8.50 ($2.31) (for more than two zones) if paying is via NOL Red Ticket Standard Class card.
Metro hours
– Red Line: Sat to Wed 05:30 – 00:00 | Thu 05:30 – 01:00 | Fri 10:00 – 01:00
– Green Line: Sat to Wed 05:50 – 00:00 | Thu 05:00 – 01:00 | Fri 10:00 – 01:00
Metro schedule: Every 3-5 minutes
Notes
– Service hours are slightly changed during the month of Ramadan.
– View Dubai Metro map
---
3. Dubai Public Buses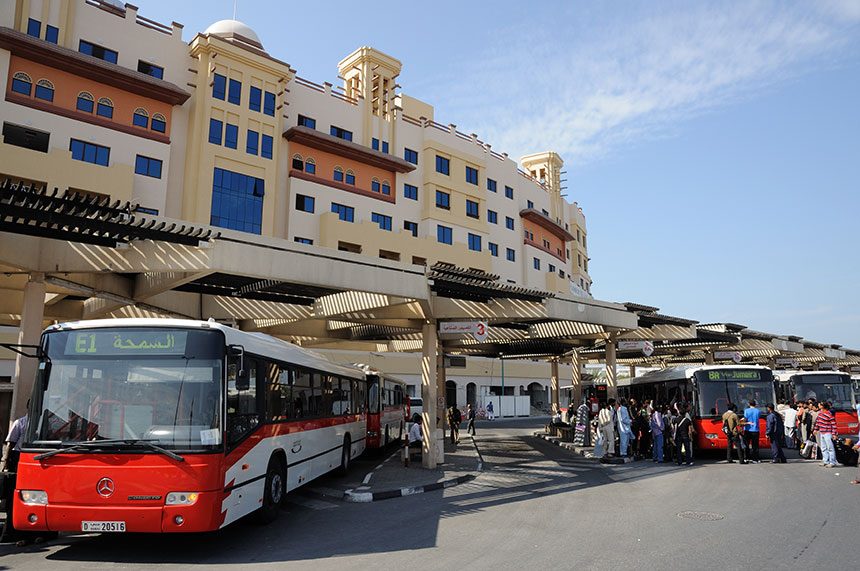 (Image: philipus)
Dubai's public bus network is extensive. There are over 75 inter-city and 15 inter-emirates routes that are currently active. All the vehicles are new, modern, and clean.
This cheap price means of transport is a good option to take if your aim is to travel between central Dubai and suburban areas.
The most popular bus line among visitors is probably Line 8. It starts its journey from the Gold Souk and then runs through the tunnel underneath Dubai Creek to finally stop near the Internet City. It comes across the Heritage Village, Jumeirah Beach Road, Burj Al Arab, and Wild Wadi before reaching the final stoppage. The 8A alternative travels a few extra miles.
Bus fares: Bus fares vary, depending on the count of zones. It can cost from AED 1-4 ($0.27-1.09) for an in-town trip.
Bus hours
– At Gold Souk, Al Ghubaibah stations: Daily 05:00 – 00:00
– At Al Satwa, Al Qusais, Al Quoz Industrial stations: Daily 05:00 – 23:00
– At Jebel Ali station: Daily 06:00 – 22:10
– At Metro Feeder Bus stations: Daily 05:15 – 01:10
Notes
– You can get the timetables and route maps at the bus stations.
– The fare might be higher for hour-long rides to distant suburbs.
---
4. Abras or Water Taxis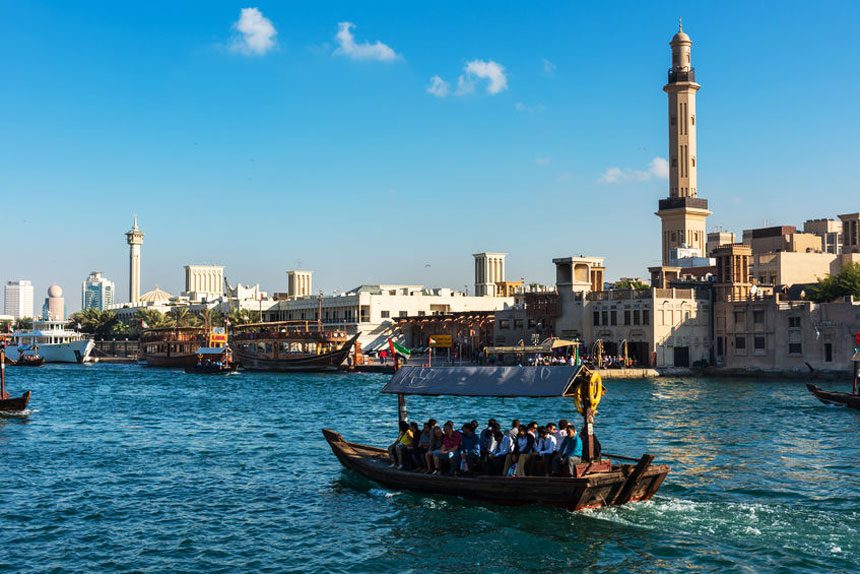 (Image: topdeq )
Both locals and tourists frequently use the Abras for crossing the Dubai Creek. Riding an Abra is a great way to enjoy the picturesque views of the city. Many visitors enjoy abra ride itself as a must-do in Dubai.
If you want to visit tourist attractions that lie on the Deira side of the creek such as Deira Gold Souk and Spice Souk, then abra is the fastest and cheapest means of transport that can bring you from Bur Dubai side to Deira side.
Among the 2 routes that the abras cover, route 2 is more popular among tourists. It offers 24/7 service, so you can cross the creek at any time of the day.
Abra hours
– Route 1 (between Deira Old Souk Abra Station and Bur Dubai Deira Old Souk Abra Station): 06:00 to 00:00 daily
– Route 2 (between Dubai Old Souk Station and Sabkha Abra Station: 24 hours (daily)
Travel time: 5 minutes (route 1); 7 minutes (route 2)
Abra fares: Fixed at AED 1 ($0.27) per person. Pay the driver in cash after the boat leaves the station.
Note: You can also hire a boat for a private tour that will cost AED 120 ($32.67) per hour.
---
5. Dubai Water Buses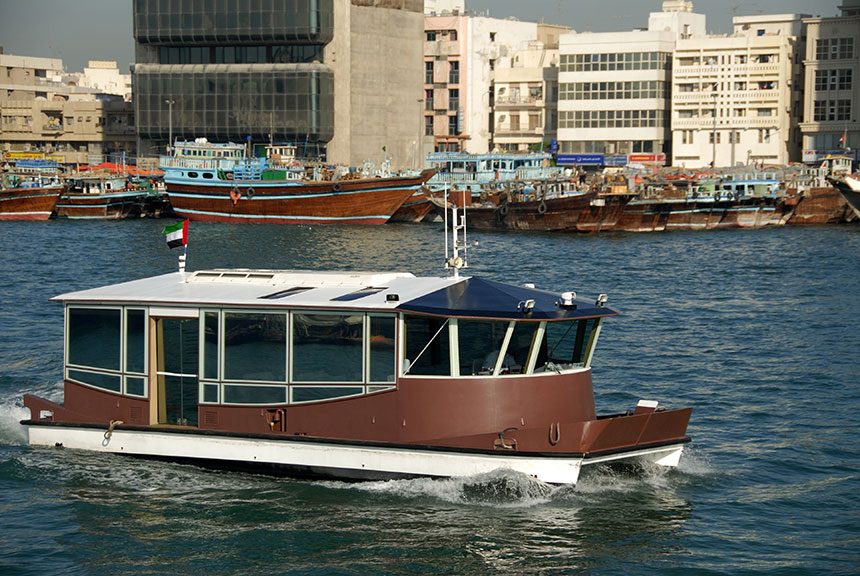 (Image: haider)
Dubai Water Bus is also a boat service but using bigger sized and air-conditioned vehicles.
While abras provide creek-crossing service, water buses has a 15-minute route along Dubai Creek, covering 8 stations.
These buses can bring about relaxing and breeze-filled trips for visitors who want to travel from Marina Mall to Marina Walk.
A water bus ride is also a great chance for sightseers to take in great views and sights on both sides of the creek.
If you plan to reserve a day for exploring many tourist attractions along both sides of the creek, you can go with the hop-on hop-off water bus service. Fares are fixed at AED 50 ($13.61) for adults and AED 25 ($6.81) for children.
You can pay by purchasing a Red Ticket at the waterbus station or via your Silver NOL Card.
Water bus fares: One-way trip cost just AED 2 ($0.54); round trip costs AED 4 ($1.09).
Water bus hours: Fridays & Public holidays 12:00 – 00:00; other days 10:00 – 23:00
---
6. Dubai Tram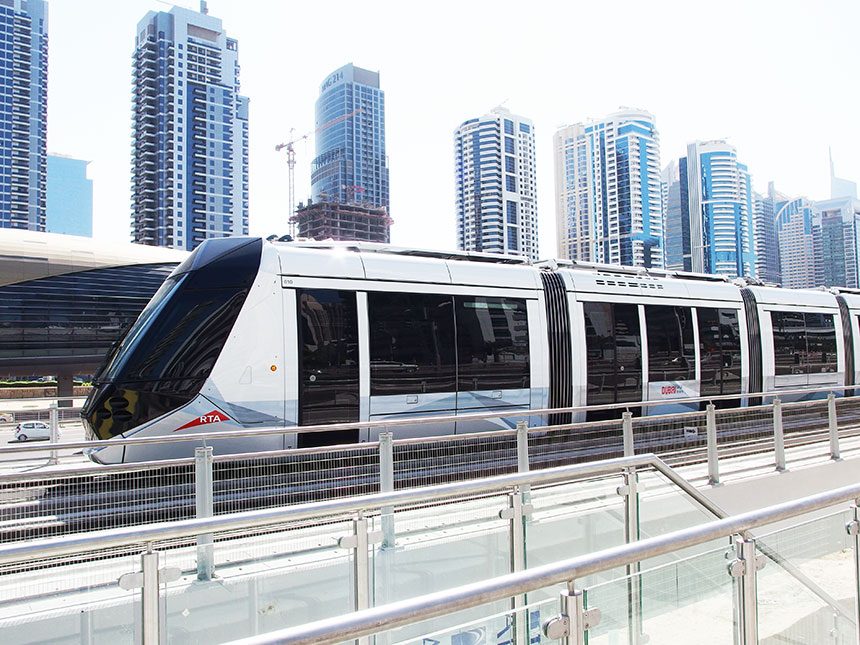 (Image: Guilhem Vellut/Flickr)
Tram is helpful for those who stay around Dubai Marina, Al Sufouh Road, Jumeirah Beach Road, and Burj Al Arab. Because this transport system help connect people at those areas to the Metro and Palm Monorail systems.
Tram fares: Fixed at AED 3 ($.82) or AED 4 ($1.09) for NOL Red Ticket
Tram hours: Fridays 09:00 – 01:30 | Other days 06:30 – 01:00
Tram schedule: Every 6 minutes
---
7. The Palm Monorail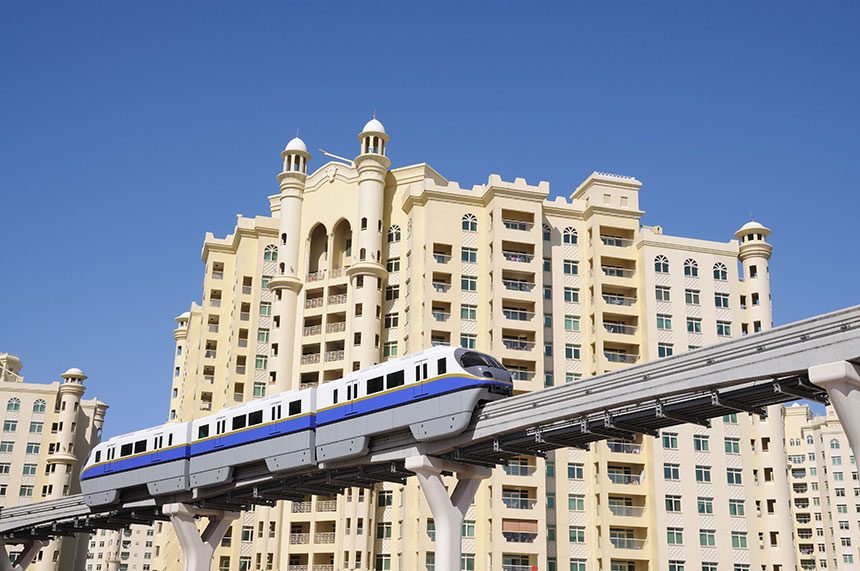 (Image: philipus)
It is a privately owned transport system that shuttles regularly between the Gateway Station and the Atlantis hotel. The distance monorail covers, which stretches along the trunk of the Palm Jumeirah, is quite short (3 miles). Apart from the Dubai Tram system, the Palm Monorail has no connection between it and other modes of transport.
So the monorail serves mostly as vantage point for visitors to enjoy the beauty of the Palm Jumeirah – the first manmade island of Dubai.
Tickets are available for purchasing at the ticket machines at the stations (cash only).
Fares: AED 15 ($4.08) for a single trip; AED 25 ($6.81) for a round trip
Service hours: Daily 10:00 to 22:00
Service schedule: Every 23 minutes