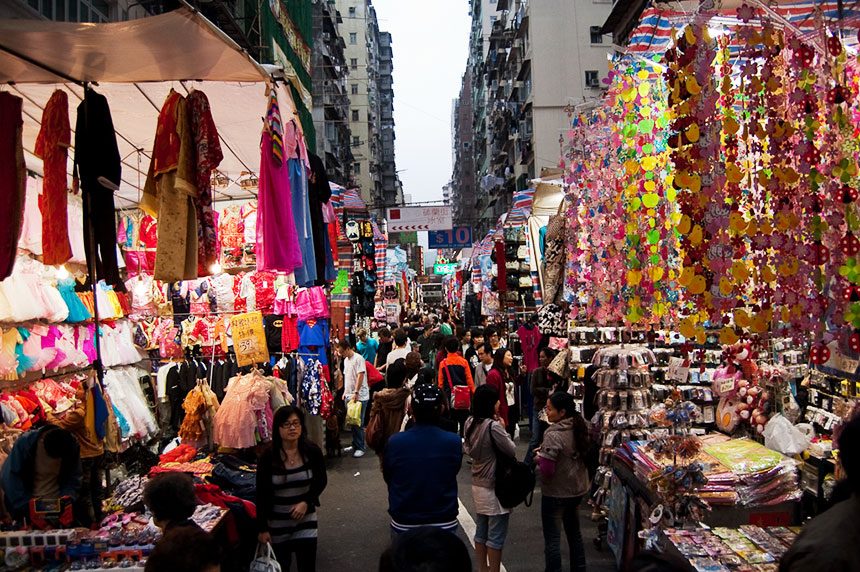 (Image: Richo in OZ/Flickr)
Ladies street with its more than 100 stores is one of the most famous street markets in Hong Kong. The place is notorious for its counterfeits of branded clothes and bags such as Ralph Lauren Polo shirts and Louis Vuittons bags. Their cheap prices, starting from $3 for a shirt, are a sign to know that they are fakes.
Despite this, people still flock to the market. It is simply because there are a lot of good bargains of many other things. Clothing, accessories and souvenirs are probably the main draw.
Ladies Street is just a stone's throw from Fa Yuen Street (sneaker street), making it a good plus to plan a trip to Mong Kok area.
Highlights
Budget buys of fashion articles are the best deals here: Its name would suggest that the offering products are for ladies only, but there are actually things for everybody. Jeans, T-shirts, bags and shoes are stuff to pay more attention among many others. Expect to get 20 to 30% discount for single buys and 50% for bulk purchases of 4 items and above.
There is street food to recharge energy: Hong Kong favorites like dim sum and won ton noodles are surely an adrenaline rush. Who can resist the lure of BBQ octopus and cuttlefish there? Exotic dishes like pork intestines and lungs are something to go more adventurous after the first thrilling dose got from shopping tour. Prices range from 50 cents to 2 dollars for foods and drinks there.
What are on offer: Clothing for ladies, men and children, shoes, bags, accessories, cosmetics, watches, toys, CDs, sunglasses, Chinese souvenirs, small household items, and others.
Opening hours: Daily 12:00 – 23:00
Location: Tung Choi Street, Mong Kok, Kowloon
How to get there: By MTR – Alight at Mong Kok station, take exit E2 then walk along Nelson street to reach Tung Choi street.