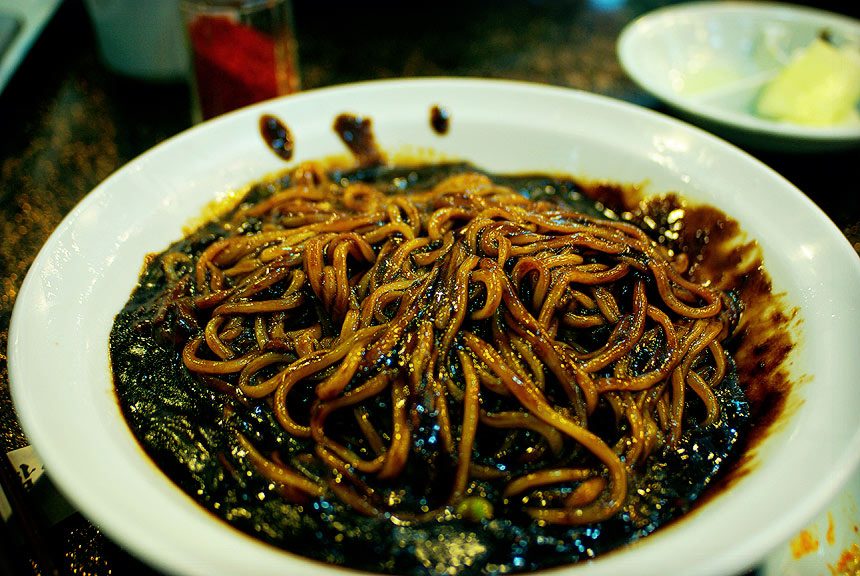 (Image: egg (Hong, Yun Seon)/Flickr)
In Seoul, "Black Day" is a day when all the single people wear black clothes and eat black foods such as this dish of black bean sauce noodles. While it seems like a gloomy occasion, gloom is the last thing Jajangmyeon would make you feel once you get to try it.
This ubiquitous dish in Seoul is made of classic hand-pulled noodles, salty black soybean paste (called jajang when heated and chunjang when unheated), diced pork and sometimes seafood, and vegetables. It's chewy, rich and thick, flavorful and saucy, that it is Asia's counterpart to Italy's spaghetti.
It's a big part of Korean food culture that was served on special occasions only but now, people can enjoy this noodle dish all year round in almost all Chinese-Korean restaurants.
Here's where you can get the best Jajangmyeon in Seoul.
SINSEONGGAK | Mapo-gu
For enjoying traditionally made Jajangmyeon in a lovely place with an old school vibe
What to order: Jajangmyeon, Jjampong, Japchae, Tangsuyuk
Price: Approximately 10,000 won ($8.73)
When: 11:00 - 19:30, daily except Sundays
Where: 04190 55-1, Imjeong-ru, Mapo-gu, Seoul
GAEHWA | Jung-gu
For plenty of excellent and affordable food in one dining place
What to order: Jajangmyeon, Fried shrimp balls, Fried dumplings, Palbochae
Price range: 5,000 to 35,000 won ($4.37 to $30.57)
When: 11:00 - 21:30, daily but closed on 2nd and 4th Sundays
Where: 52-5 Namdaemun-ro, Jung-gu, Seoul
DAEHANGAK | Yongsan-gu
For Jajangmyeon and authentic, world-class Chinese cuisine that the restaurant specializes in
What to order: Jajangmyeon, Sweet and sour pork, Dongbei, Fried dumplings
Price range: 10,000 to 50,000 won ($8 73 to $43.67)
When: 11:30 - 15:00, 17:00 - 22:00, daily
Where: 140-200, 21 Hoksapyeong-daero, 26-gil, Yongsan-gu, Seoul